Banreservas opens its first representative office in the US in New York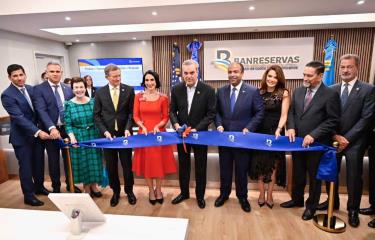 New York.- Banco de Reservas of the Dominican Republic inaugurated its inaugural representative office in the United States on Wednesday evening. This significant event featured the participation of President Luis Abinader, who was in New York attending the United Nations General Assembly on behalf of the Dominican Republic.
The establishment of this second foreign branch of the Dominican bank follows the approval by the United States Federal Reserve in June to set up two representative offices, one in New York City and the other in Miami, Florida.
"This is a historic day for our bank, #ElBancodeTODOSlosDominicanos, as we officially open the doors of our first Banco de Reservas Representative Office in the United States, located in the city of #NewYork," proudly announced Banco de Reservas on their Twitter account.
The New York office will be situated within the Radio Hotel, strategically positioned in the heart of the vibrant Little Dominican Republic in Upper Manhattan.
These representative offices of the state-owned bank aim to streamline banking services for the Dominican diaspora, which comprises nearly three million individuals.
On January 17, Madrid became the first foreign city to host a representative office of the state-owned Reserve Bank (Banreservas). With the addition of these two new offices in Miami and New York, Banreservas proudly becomes "the first Dominican bank with a presence in these significant U.S. cities," emphasized Samuel Pereyra, the bank's administrator.
Regarding the capabilities of these representative offices, Banco de Reservas has clarified that all of the bank's services will be available, but financial transactions will be processed in the Dominican Republic. In practical terms, while Banreservas cannot conduct financial intermediary operations abroad, such as receiving deposits, it can facilitate the necessary procedures to its offices in the Dominican Republic.
This means that Dominicans residing abroad will initially have access to services like mortgage loan applications, remittance accounts, financial instruments, and insurance management. These services will enable them to conduct banking affairs without the need to travel to the Dominican Republic.
Banreservas disclosed that it initiated the process of establishing its foreign representative offices after obtaining approval from the Superintendency of Banks and the Monetary Board of the Central Bank of the Dominican Republic in January 2022.