Roberto Álvarez highlights expansion of Dominican diplomacy during Dominican Week 2023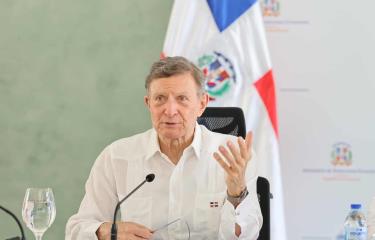 Santo Domingo.- Dominican Foreign Minister Roberto Álvarez highlighted the country's robust international relations efforts, emphasizing the success of their "new foreign policy." This approach has led to expanded diplomatic ties with more nations and the establishment of embassies in strategic locations like Guyana, with Saudi Arabia soon to follow. These remarks were made during the opening of the thirty-first Dominican Week in the United States.
Minister Álvarez also emphasized the strengthening of bonds with key entities such as the European Union, the United States, and Caribbean nations including Jamaica, Bahamas, Suriname, and Antigua and Barbuda. This initiative, coinciding with the centenary celebration of the American Chamber of Commerce of the Dominican Republic (Amchamrd), aims to promote the Dominican Republic as a Nearshore destination and Regional Logistics Hub. It showcases progress in trade facilitation, the rule of law, and opportunities for Public-Private Partnerships within the national economy.
Edwin De los Santos, president of Amchamrd, highlighted the pivotal role of the Dominican Week in promoting the country's economic ecosystem, encouraging investments, and facilitating commercial exchanges between the Dominican Republic and the United States. The agenda for the event includes discussions on significant topics such as the upcoming Summit of the Americas in 2025, the Dominican diaspora, trade facilitation, renewable energies, Global Entry implementation, and the promotion of Dominican tourism.
Dominican Ambassador Sonia Guzmán expressed gratitude for the delegation's presence at the event, foreseeing a successful mission to further strengthen relations between the Dominican Republic and the United States.
The event also included meetings with officials from the United States Department of State, focusing on topics like digital transformation, cybersecurity, and the Americas Partnership for Economic Prosperity (APEP). These discussions aim to bolster ties between the two nations.
Furthermore, the Amchamdr Executive Committee met with directors of the State Department's CHIPS program to explore opportunities for the Dominican Republic in the semiconductor field.
The day concluded with a dinner featuring John Murphy, Senior Vice President of International Policy at the US Chamber, who shared insights into geopolitical and geoeconomic trends, their impact on American companies, and United States trade policy.
Dominican Week, organized by the American Chamber of Commerce, seeks to advance mutual interests and advocate for government decisions aligning with the needs of various sectors. It strives to enhance bilateral trade relations and strengthen connections with the Dominican diaspora in the United States. The event enjoys support from both the United States Embassy in the Dominican Republic and the Embassy of the Dominican Republic in the United States, as it has for many years.