Dominican Republic in the catalog of luxury residences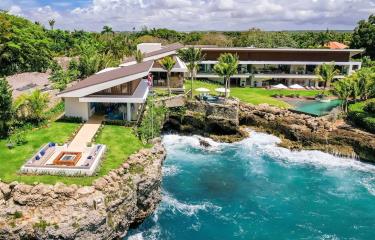 Santo Domingo.- A luxury mansion in the Dominican Republic is currently listed for sale at a staggering $45 million USD, equivalent to 2.5 billion Dominican pesos. This spectacular property, situated on the coast of La Romana within a Dominican resort complex, is being sold by Sotheby's International Realty, a subsidiary of the renowned auction firm Sotheby's.
The mansion was purchased by a retired Canadian couple, Stanley and Conchita Meek, in 2017. It offers an array of lavish features, including a trained staff of eleven people, six kitchens, and even a Range Rover vehicle. The mansion spans approximately 25,000 square feet, primarily across two floors.
This price tag makes the mansion one of the most expensive residential properties currently listed in the Dominican Republic. It surpasses the recent purchases of other celebrity homes, such as Leo Messi's $11 million property in North Miami, Shakira's $16 million residence in Florida, and the $24 million home of Ivana Trump and Jared Kushner in the southern United States.
The journey of this mansion's transformation from an uninhabited property to a luxurious and highly serviced estate is also featured in the story. The Meeks, upon visiting the property when it had been uninhabited for 18 years, saw an opportunity despite its challenging terrain and a previous decline in real estate interest. They decided to purchase it in 2017.
After demolishing the original structure and enlisting architect Arturo Despradel, they began the construction of the mansion. The irregular terrain was addressed by building the house on the slope, resulting in a two-story structure with ten guest bedrooms, 13.5 bathrooms, and three bedrooms and bathrooms for service personnel.
Although the Meeks initially intended for this mansion to be their "last home," they recently discovered a new opportunity through Conchita's son, Sergio Llach, a broker with Sotheby's International Realty in the Dominican Republic, who showed them a slightly smaller property nearby.