From adversity and with RD$1,500 Yrenes Martinez created a brand that travels the world.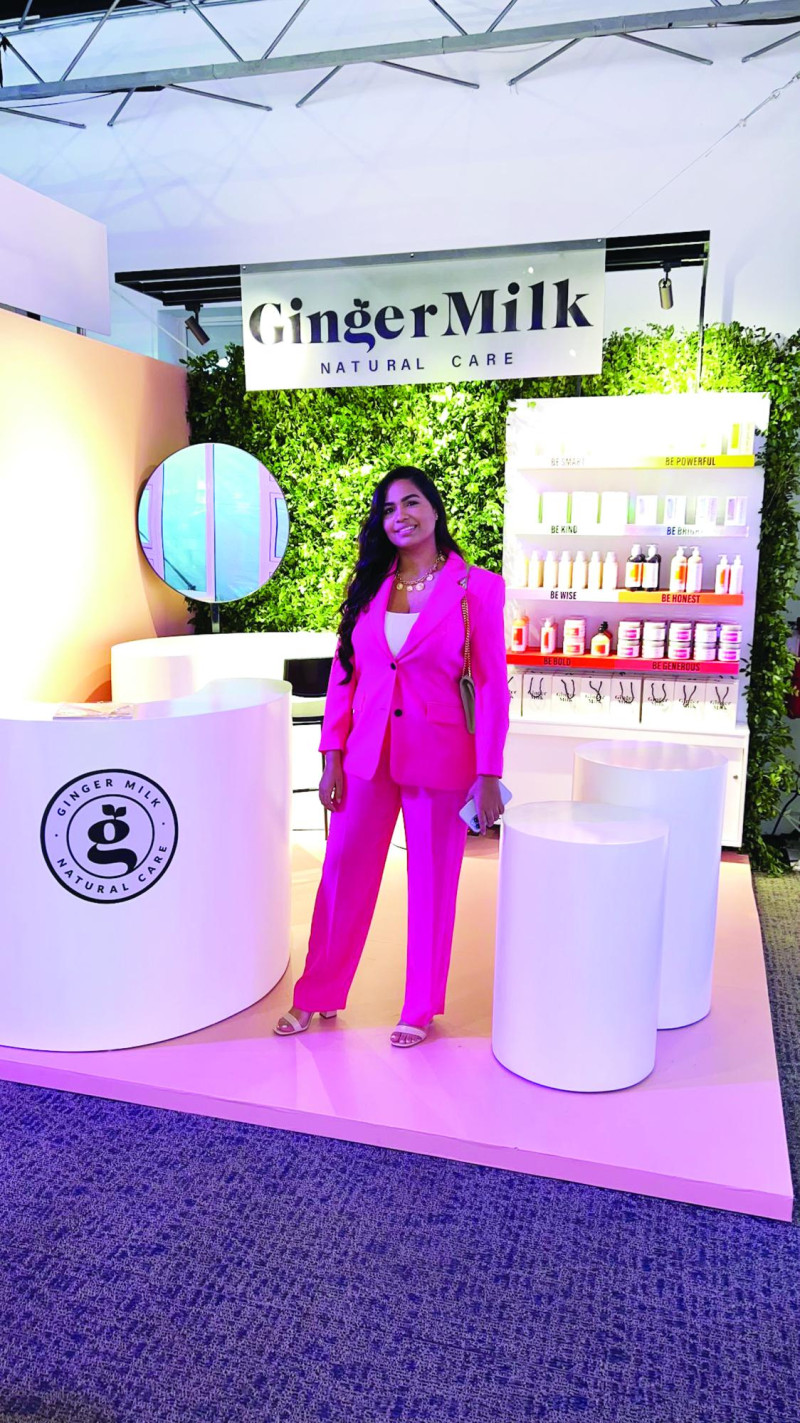 The line of hair products created by Yrenes Martínez Tejada already has 32 products and their names are based on values such as: generosity, honesty, kindness, and others.
Santo Domingo—The stories of many women's entrepreneurship seem to be taken from a fable, with morals that give us lessons to understand that every sacrifice has its fruits and that when we put our hearts into a project, the results are always positive.
Yrenes Martínez Tejada, the creator of the Ginger Milk line of hair cosmetics, is an example that in adversity, there are infinite opportunities and that, depending on your attitude, you can turn a problem into a great business initiative.
Yrenes worked as part of the Communications Department of the Central Bank protocol team, graduated with a degree in International Business, and was awarded a scholarship by the bank to pursue her master's degree.
Her multiple occupations generated a high level of stress that led her to a state of anxiety that made her forget her own identity, and she began to lose her hair.
"My hair started to fall out, in one week I even forgot who I was. I spent a whole week in the hands of psychologists and psychiatrists, taking a lot of anxiolytics and I had to stop everything I was doing to dedicate myself to myself", says Yrenes.
She adds that looking for a solution to her hair loss, she started to make her own products to recover her hair and to help a friend who suffered from alopecia. She says that due to the formula's success, many people around her began to demand what she made.
"I started giving away my work, and they bought it. I am shocked by what we have achieved nationally and internationally; we went from selling 20 units a week to 10,000 units in a month of a single product", expresses this young woman who is just 30 years old, who started her business in 2015, along with a friend, with a capital of 1,500 pesos.
She explains that she made her handmade products relying on information posted on the internet until a cosmetic engineer, a friend of her mother's, gave her the support she needed to provide a scientific value to what she was already doing empirically. There, she began to establish herself as a small industry.
In 2020, during the pandemic, he dedicated himself entirely to the company, and in that year, he managed to export his first 40-foot container of products to the United States.
"I started sending products to my cousin who lived in Washington Heights, in New York; my first pallet, was in February 2020, in the middle of the pandemic. Many companies grew because people needed to fix themselves at home because of anxiety hair fell out due to Covid and I had a product that was just for hair growth, and my cousin stood on the corner of her block to sell it," said this determined entrepreneur.
She points out that when the demand for her products increased in the United States, she decided to establish herself there with the help of her cousin and her husband. "I rented a warehouse, and we unloaded the merchandise from the container ourselves. We partnered with Amazon and started shipping," says Yrenes.
On three continents
From starting with only three people, today, the company created by Yrenes Martínez has 70 employees, adding the 23 who work in the laboratory.
"I am very proud to see how, little by little, we are achieving wonderful things. From starting with 1,500 pesos, last year we closed with sales of US$1.9 million overall, thanks to international growth," says Yrenes, who says he comes from a family of limited resources.
He says that although he was first welcomed in the United States, where he has several points of sale and a warehouse in Amazon. Also, in Valencia, Spain, established a warehouse from where it is distributed throughout Europe and is already reaching Africa, in places like Ivory Coast, South Africa, and Egypt.
"We are doing something very nice and that is reaching our Country Brand to those places," emphasizes Yrenes.
Recognition
"Ginger Milk," the hair products brand created by Yrenes Martinez, has been awarded the highest score in the prestigious The Beauty Shortlist Awards 2023 in the UK's Mama & Baby/Eco Lifestyle category.
Perseverance.
With the experience that the path of her entrepreneurship has given her, Yrenes Martínez recommends entrepreneurs to be perseverant and not let themselves be defeated by adversity. She says that, little by little, you can achieve your goals.