Banreservas opens representative office in Miami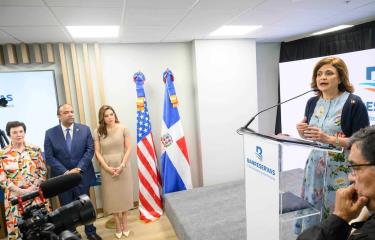 Miami.- The Reserve Bank marked a significant milestone this Monday with the inauguration of a representative office in Miami, Florida, further extending its services to the Dominican community living abroad. The Miami branch becomes the third such establishment, joining the existing offices in Madrid and New York.
Vice President of the Republic, Raquel Peña, led the opening ceremony and stressed the value of having a reputable institution like the Reserve Bank supporting both Dominican and foreign investors interested in the country's favorable business environment.
Samuel Pereyra, the General Administrator of the bank, expressed the growing internationalization of Banreservas with the Miami branch now in operation. He emphasized that these three cities, Madrid, New York, and now Miami, hold key financial importance, serving as hubs for global capital, investments, and businesses, with the Dominican Republic positioned at the center of these opportunities.
The internationalization efforts of the bank aim to build bridges for the country's development and reach out to the hundreds of thousands of Dominicans residing abroad, ensuring that they have access to the bank's services, regardless of their location.
The decision to establish representative offices in Miami and New York was strategic, given that these states, including New Jersey, are home to the majority of Dominicans in the United States.
The new Miami office is conveniently located next to the Dominican Consulate at 1101 Brickell Avenue, Suite N-1402, Miami, Florida 33131.
Services offered at the Miami branch include the opening of savings accounts, mortgage loans, remittance advice, online banking system assistance, and account certification.
Samuel Pereyra expressed confidence that this new office, alongside those in New York and Madrid, will become invaluable assets in promoting Dominican values and positioning the country on the global stage. He reiterated that the bank's goal is not only to continue growing as a financial institution but also to contribute to the well-being of clients and the entire Dominican population.
Pereyra extended his gratitude to President Luis Abinader, the Board of Directors, executives, employees, and the Dominican people and clients who have contributed to making Banreservas the largest bank in the Caribbean and one of the most profitable worldwide.
The opening ceremony was attended by notable figures, including Noelia García de Pereyra, president of the Banreservas Volunteers; Geanilda Vásquez, Consul General in Miami; Francisco Holis Matos, Consul General in Orlando; Jaime Lacadena, Consul General of Spain in Miami, and Banreservas sub-administrators José Manuel Almonte and Francisco Elías.