Another 1,428 citizens are arrested for disregarding nationwide curfew; adding up to more than 28 thousand in 16 days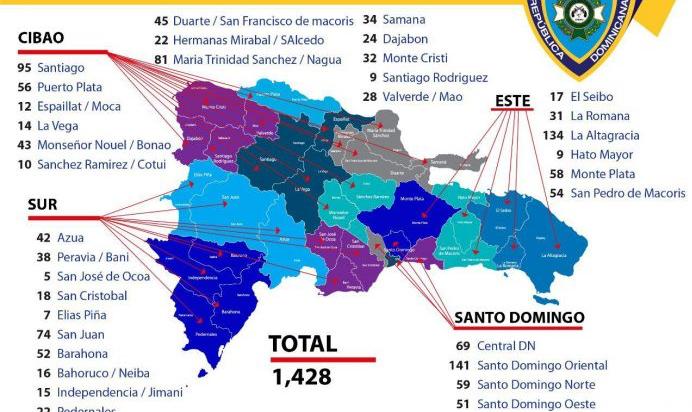 Numbers of curfew violation arrests around the country. Heed the curfew or prepare to do some community service trash pick-up and collection
SANTO DOMINGO.- The National Police reported on Monday that in joint operations with the Armed Forces, 1,428 people were arrested last night for disregarding the curfew, which was instructed by the Government to prevent the expansion of COVID-19.
With the newly arrested, there are 28,213 people who have been detained since March 20 when the presidential provision began to be fulfilled, which originally was from 8:00 at night to 6:00 in the morning but since March 27 it started at 5:00 in the afternoon.
In addition, yesterday's figure shows an increase of 18% compared to the previous night, when the prisoners were 1,204, according to the uniformed officer.
The demarcations with the largest number of detainees last night were Gran Santo Domingo, La Altagracia, Santiago, María Trinidad Sánchez, San Juan, Monte Plata and Puerto Plata.
The Office of the Attorney General of the Republic (PGR) reported yesterday that the prosecutors' offices of the different provinces of the country comply with the provision that citizens arrested for violating the curfew clean the places where their detention has been registered.
The PGR warned through a press release that, against all those detained by the National Police for violating the curfew schedule, from 5:00 in the afternoon to 6:00 in the morning, they are seeking to be sanctioned with the imposition of fines and community service, among them, the collection of garbage in coordination with the various municipalities.
In the same sense, the institution of the justice system reported that people arrested for violation of laws binding the curfew, for crimes of rebellion, acts of resistance or violence against the mixed police patrols are being brought to justice. The National Guard and the Army have the mission of enforcing the curfew throughout the country.
The Attorney General of the Republic, Jean Rodríguez, instructed the members of the Public Ministry to order the police officers of their respective jurisdictions so that in cases they consider serious, related to violations of the laws, they must present them before the Public Ministry to all those people who are arrested for violation of said regulations, so that they can be judicially processed, digitally or remotely, in compliance with the provisions of article 224 of the Criminal Procedure Code.
Yesterday, several videos were made viral where the detainees are observed carrying out community service work in different parts of the country.
The death toll in the Dominican Republic due to the coronavirus has reached 98, while the number of infected persons totaled 1,956, reported as of today the Minister of Public Health, Rafael Sánchez Cárdenas.