Says 50 nurses have died after contracting the coronavirus in their work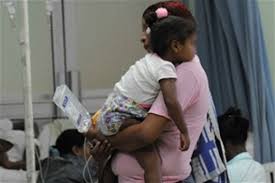 The Ministry of Health has registered 35 deaths from dengue and 3,789 probable cases during the year 2020.
Although the dengue cases this year are lower than those registered in 2019, which was an epidemic year, in the first 11 months of this, the disease caused by the bite of a mosquito has caused the death of 35 patients records 3,789 probable cases.
In the last four weeks of November, 78 new dengue cases were reported, of which 78% occurred in children under 20 years of age. In previous years the disease was registered more frequently in children under 15 years of age.
About half, 48% of the new cases registered in the last week occurred in the municipalities of Santo Domingo Este, Santo Domingo Norte, Santo Domingo de Guzmán and Santo Domingo Oeste.
The bulletin corresponding to epidemiological week 48 registers the notifications until November 28. In that last week, 21 probable dengue cases were registered for a cumulative of 3,789, including 35 deaths.
Deaths enter the line of suspects because the clinical audit committee has not yet audited them. Compared to the same period in 2019, this event reduced 80% in the incidence rate. In the first 11 months of last year, the surveillance system had captured 137 deaths from dengue and 18,732 suspected dengue cases. The year closed with more than 20,000 cases.
Malaria cases
In relation to malaria, the system had captured two deaths and 805 cases of affected people until November 28.
In that last epidemiological week, number 48, two confirmed malaria cases were reported, all autochthonous, including a woman and a man, aged 21 and 54 years, residing in the municipality of Santo Domingo Este.
In the total of 805 accumulated confirmed cases, Plasmodium falciparum and viva parasites were identified, the latter corresponding to two imported cases from Venezuela and Guyana.
LEARN MORE
They are looking for active cases of malaria.
The incidence.
The cumulative incidence of malaria is 8.51 per 100,000 inhabitants. The Ministry of Public Health reports that it continues with the active community search for feverish patients, treatment, and timely investigation of the cases identified to cut possible outbreaks in areas with conditions for the reproduction of the disease vectors.