Ruta de la Salud: 75% of Santiago's population is overweight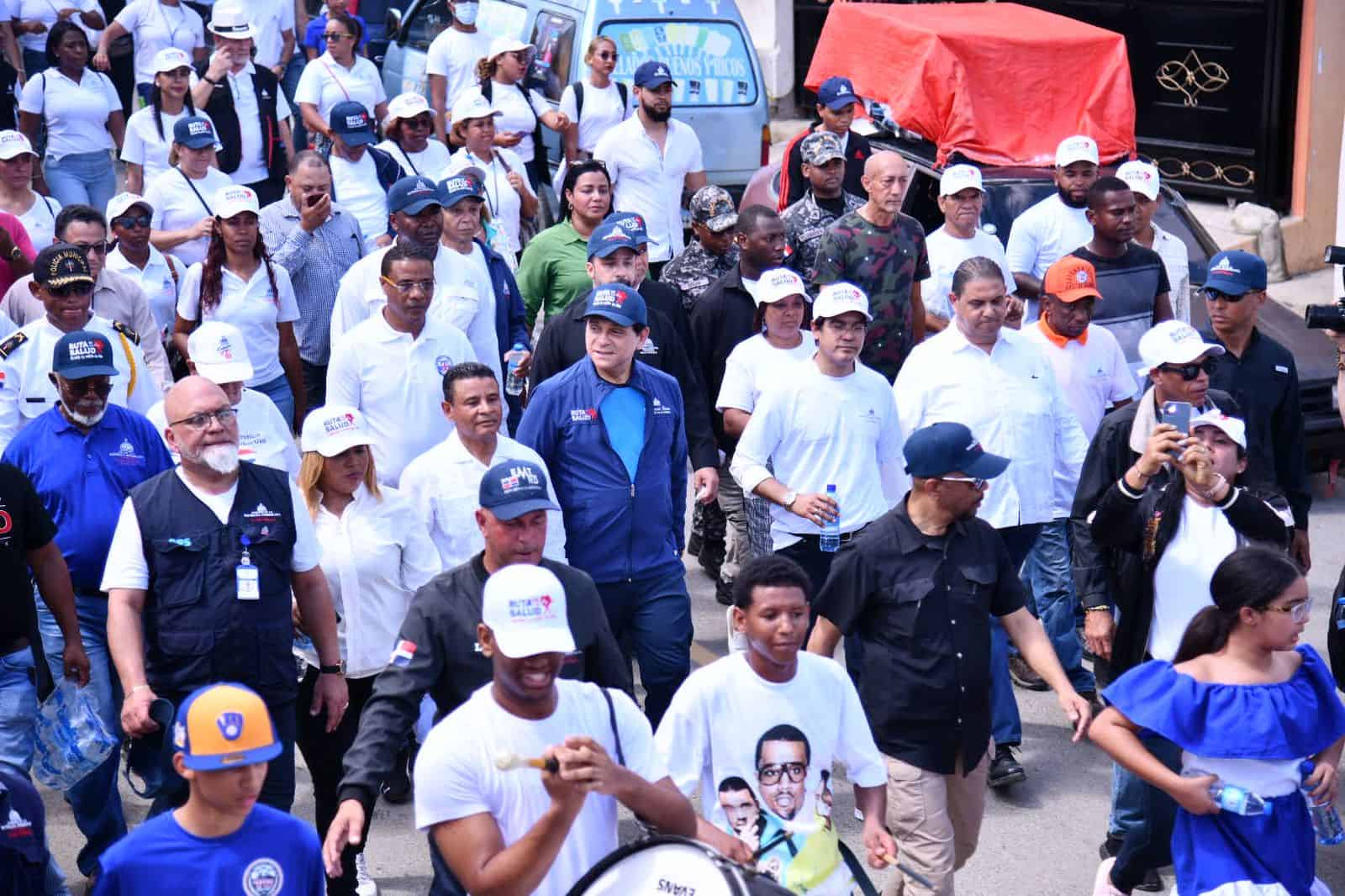 The Health Route included a walk. (DIARIO LIBRE/ANEUDY TAVÁREZ)
The 21st edition of "La Ruta de la Salud: Cambia tu estilo de vida" (Health Route: Change your lifestyle) arrived this Friday at the Polideportivo Ambiorix Rodríguez, in the Cienfuegos sector, Santiago Oeste, to instruct the population on how to change their lifestyles and to offer medical services in different specialties.
The Minister of Health, Daniel Rivera, said: "Health is happiness, what is sadness is illness. This day comes to celebrate a change of lifestyle, here there are more than 30 services available to the community so that they can take advantage, approach and know how their health is, because prevention is paramount".
The official said that in this province, the study on Overweight, Obesity, Diabetes, and Hypertension (Sodhip) showed as a result 33.2% in hypertension, overweight and obesity 75.1% (above the national average of 72%), and 10.4% in hyperglycemia.
He said this demarcation has high indicators. Therefore, they must work to change and care for their health, avoiding diseases.
Rivera urged citizens to practice sports or physical activities, eat healthy foods, fruits, and vegetables, and reduce sugar, salt, and saturated fat consumption so that, in the long term, they can avoid chronic diseases such as diabetes, hypertension, and obesity.
From the early morning hours, the minister offered general consultation, cardiometabolic evaluation, orientations, and referrals to those seeking medical attention.
"Prevention, promotion and education is what can benefit a country the most and lead it to be healthy. We want everyone to participate in the Health Route, here there are more than 35 services, thanks to the people who have come from all over West Santiago and for joining us," he said.
On his side, the president of the Senate of the Republic, Eduardo Estrella, congratulated this action and highlighted the importance of the investment in the Health sector that the Government is making.
"It is an honor to be in this activity, the 21st, precisely in Santiago Oeste, where President Abinader has put his eyes, he has put them on the health sector in the Dominican Republic. The proof is the investment in medicines that is being made, more than 7 million 200 thousand Dominicans affiliated to the Health Insurance, the investment in repair and reconstruction of hospitals, which were left in neglect, that is called investing in the people, in the lowest, that is to defend the Dominican people, that is why this day is not only palliative but preventive," said Estrella.
Meanwhile, the Civil Governor of Santiago, Rosa Santos, said that changing habits is a complex but necessary act.
"This activity is to change our physical condition and to be able to perform daily activities, which aims to strengthen the health of the Dominican people, so, I call for them to support and take advantage of these services that are here for their improvement, because today health is in our territory," she said.
Among the authorities who gave support to this version are: the executive director of the National Health Insurance (Senasa), Santiago Hazim; Adolfo Pérez, director of Promese; Marieta Díaz, regional director of Education; Ulises Rodríguez, general director of Proindustria; Samuel Azcona, regional director of the Cibao Central National Police; Andrés Cueto, general manager of Edenorte, among other personalities.
According to Public Health, more than 170,000 Dominican families have been impacted through the different editions of the Health Routes and their services, which include: pediatrics, dentistry, general medicine, gynecology, ophthalmology, as well as clinical laboratory, electrocardiogram, echocardiogram, glycemia, mammography, sonomammography, sonography, prostate evaluation, and PSA tests, blood typing and donation, Senasa carding and delivery of medicines.