Dominican Republic continues without detecting cases of the EG.5 variant of COVID-19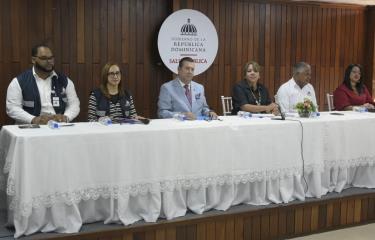 Santo Domingo.- As of now, the Dominican Republic has not detected any cases of the new EG.5 variant of COVID-19. Dr. Manuel Gil, while presenting the weekly epidemiological bulletin on the country's COVID-19 situation, mentioned that the surveillance system is actively monitoring for the variant and is prepared to respond promptly if any cases are identified.
Dr. Gil clarified that the EG.5 variant doesn't raise significant concerns as it exhibits low pathogenicity. This is a common evolutionary pattern for viruses, where they may evolve to a point where they either show no symptoms or the symptoms are not severe.
This week, Ecuador's Ministry of Public Health confirmed the discovery of three cases of the EG.5 variant within their country. This variant has caused an increase in cases in several other countries including China, Canada, Colombia, Costa Rica, and the United States.
In the past week, the Dominican Republic reported 125 new cases of COVID-19 out of 3,729 samples processed. The weekly positivity rate is 8.87%. The provinces with the highest number of active cases include Santiago, Espaillat, Duarte, San José de Ocoa, the National District, Santo Domingo, San Pedro de Macorís, La Altagracia, and San Juan.