FAO representative in the country: "A healthy diet costs 60% more"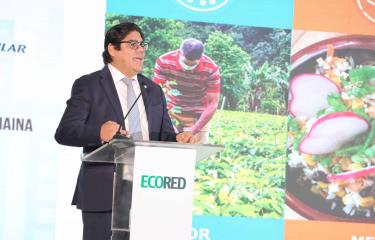 Santo Domingo.- Rodrigo Castañeda, the representative of the Food and Agriculture Organization of the United Nations (FAO) in the Dominican Republic, emphasized the need for improvements in the quality of diets and equitable access to food products, despite a decrease in the prevalence of undernourishment and hunger in the country. He pointed out that while the prevalence fell from 8.3% in the three-year period of 2018-2020 to 6.3% between 2020-2022, challenges remain.
Castañeda highlighted the difficulty in finding healthy foods at low cost and in close proximity. He mentioned that a healthy diet costs 60% more than one that fulfills basic food needs and five times more than diets that only provide food energy.
During his presentation on "Impact of food waste on the environment" at the "Sustainable Profits" seminar organized by the National Network of Business Support for Environmental Protection (Ecored), Castañeda shared global statistics, stating that in 2022, 735 million people suffered from hunger, while 1,029 million people were classified as obese. He emphasized that the problem of hunger is primarily an issue of economic access.
Castañeda pointed out that food waste is a significant contributor to environmental issues, with examples such as 12% waste in fish production and 32% in fruits. This waste accounts for 10% of greenhouse gas emissions, and if it were a country, it would be the third most polluting sector globally.
He also highlighted various factors contributing to poverty and inequality affecting food security, including pandemics, economic slowdowns, climate variability, conflicts, and the high cost of healthy diets. Additionally, he mentioned climate change's impact on soil degradation, excessive pesticide use, and the need for traceability to reduce food waste.
Regarding the Dominican Republic, Castañeda expressed concern about health indicators, stating that 70% of the population is obese or overweight, leading to a significant burden on public healthcare spending. He called for efforts to promote healthier diets and lifestyles.
Castañeda also addressed the issue of food waste in tourist areas of the country, emphasizing the need for collaboration between the public and private sectors to implement initiatives and reduce waste.
Globally, in 2022, 931 million tons of food ended up in landfills, highlighting the urgency of addressing food waste and improving food access and quality.