Dominican Dermatological Institute graduates new specialists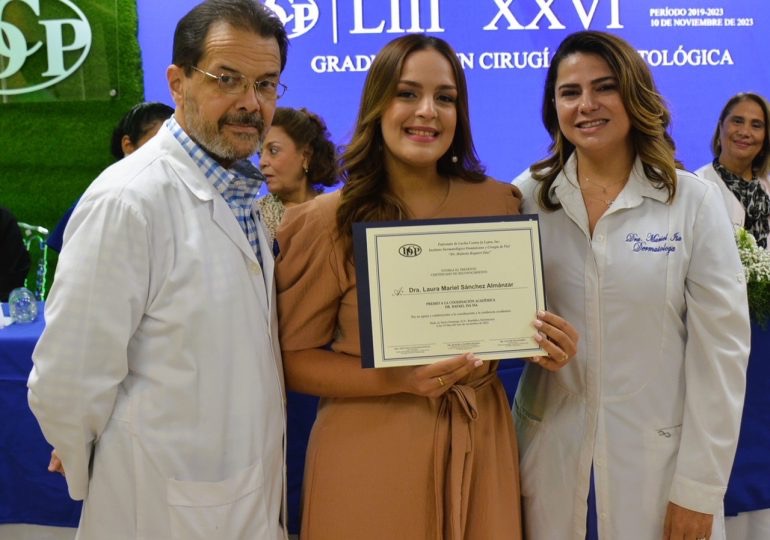 Santo Domingo.- The Dermatological and Skin Surgery Institute "Dr. Huberto Bogaert Díaz" celebrated the graduation of its fifty-third class of postgraduate resident doctors in dermatology and venereology, welcoming 13 new specialists. Concurrently, the institute marked the twenty-sixth promotion of dermatological surgeons, graduating 4 new specialized medical professionals.
Dr. Víctor Pou Soares, the general director of the IDCP, presided over the ceremony, joined by esteemed doctors, including Emma Guzmán de Cruz, president of the Board of Trustees to Fight Leprosy; Luisa González de Bogaert, vice president; Dr. Manuel Cochón Aranda, residency coordinator in dermatology; and doctors Mariel Isa Pimentel, president of the Dominican Society of Dermatology, and Elfida Sánchez, deputy director of the IDCP.
Dr. Victor Pou Soares emphasized the significant role played by the IDCP as an educational institution and commended the collective effort made by the institution and its educators to provide high-quality training while delivering excellent medical care to patients. He encouraged the graduates to carry forward the values and knowledge they had gained during their training, becoming leaders and references in the field of dermatology. He also reminded them of their oath as doctors to provide quality care, promote health and well-being, and continue learning and growing in their profession.
The central investiture speech was delivered by Dr. Gabriel Serrano, president and founder of Sesderma and Mediderma Laboratories.
During the graduation ceremony, the "Doctor Huberto Bogaert Díaz Academic Excellence Award" was presented to Dr. Anmarie Li Herrera, recognizing her outstanding academic performance. Doctors Winston Damián Brito Fabian and Laura Mariel Sánchez Almánzar were also honored with the "Doctor Rafael Isa Isa Academic Coordination Award." Additionally, the Sesderma Doctor Gabriel Serrano Award was bestowed upon graduate Laura Soto.
Speaking on behalf of the graduates, Li Herrera expressed gratitude to the IDCP for the academic training and knowledge they had received during their four years of specialization. She expressed pride and satisfaction in being part of this prestigious institution, which serves as a benchmark in dermatology in Latin America and the Caribbean.
Since 1967, the "Dr. Huberto Bogaert Díaz" Institute has trained 380 doctors specializing in dermatology, including 336 Dominicans and 44 foreigners. In the field of dermatological surgery, they have prepared 83 medical professionals since 1988.