Military leaders assess exercise progress in Dominican Republic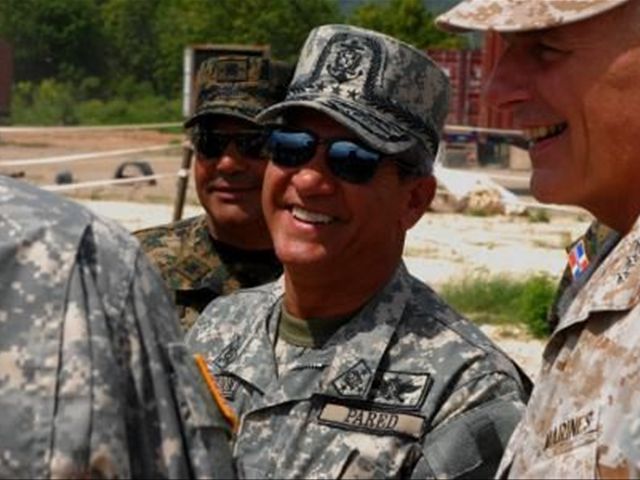 Barahona, Dominican Republic (DVIDS), – Hammers are swung and teeth are continually cleaned as the multinational exercise Beyond the Horizon 2014 carries on in Barahona Province, Dominican Republic, June 9.
United States Marine Corps Gen. John F. Kelly, commander of U.S. Southern Command (SOUTHCOM), and Dominican Minister of Defense Adm. Sigfrido Pared Perez visited the Soldiers, Marines and airmen participating in the humanitarian and civic assistance mission to learn about the improvements being made in this Caribbean island nation.
Task Force Larimar Commander, U.S. Army Reserve Lt. Col. Christopher Dziubek, and Col. Andrés Santos Melo, commander of the Dominican Republic's 5th Infantry Brigade, briefed Kelly, Perez and other military leaders in attendance on the status of construction projects and medical assistance during BTH.
Engineering projects during this mission include building schools and medical clinics while the medical and dental services for the locals range from providing pre-natal vitamins to filling cavities and root canals.
"It's about building partnerships," Kelly said. "These people are willing to form that partnership and they could use the additional help."
During two-week iterations, both Army Reserve and Air National Guard engineers from across the United States as well as international partners from Brazil, Venezuela, Chile, Peru and the Dominican Republic worked on five construction sites to improve the quality of life for the Dominican people. Also, medical and dental specialists from the U.S. Army Reserve and Canada provided care for people who might otherwise not visit a dentist or doctor.
"It's a multinational effort," said U.S. Army Capt. David Bennett, a dentist from the 143rd Medical Company, who is participating in the dental readiness training exercise sites across Barahona province. "It's been awesome to work with people from other countries."
In addition to the partnerships, Kelly stressed the training value a mission like Beyond the Horizon presents for Army Reserve Soldiers and Air National Guard airmen participating in this mission.
Because the Soldiers and airmen involved are not full-time members of the military, Kelly said they bring a unique set of skills to this mission.
"[The Soldiers and airmen] are getting tremendous training, but it's two-fold," he said. "They are training in their normal job skills as well as the skills they bring from their civilian career."