Protesters for National Park chain themselves to Congress(Update2)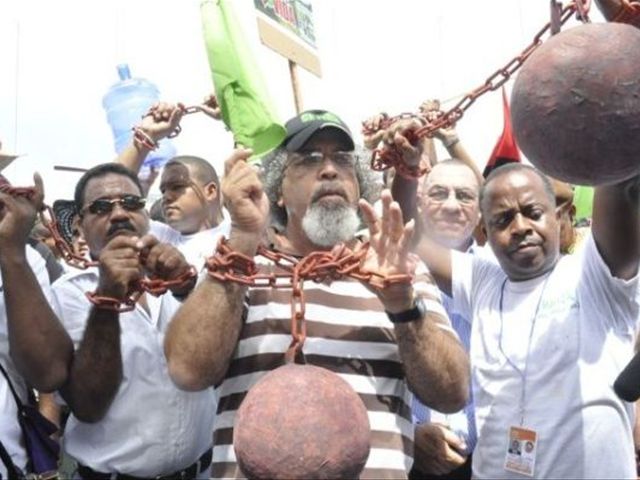 Santo Domingo.- Hundreds of protesters reached the Congress near Tuesday noon to demand that lawmakers approve the bill to declare Loma Miranda National Park, the site of the planned mine by Glencore Falcondo, in the Central Mountains.
Headed by radical priest Rogelio Cruz, many of the protesters chained themselves to the gates of Congress, as dozens of riot police stood by.
FILE. Hundreds of Antiriot police and trained dogs have been posted around Congress Tuesday morning as protesters march there to demand that creation of Loma Miranda National Park.
The police have cordoned off several blocks within Independencia, Churchill and Malecon avenues to await the marchers including young children from more than 40 organizations, who set off from the Santo Domingo State University -UASD.
"They're going to kill us all because we're willing to give our lives for Loma Miranda," said radical priest Rogelio Cruz, who declared himself in "public revolt."
"I'm going in where I come out and go out where where I come out."
In Congress meanwhile deputy and troubadour Manuel Jiménez, who supports the bill to create the National Park and who wrote the song "Miranda is not negotiable," slammed deployment of riot police, noting that "just 2 or 3 police officers" are enough to ensure safety.