Agents nab cash, drugs on San Juan-Santo Domingo ferry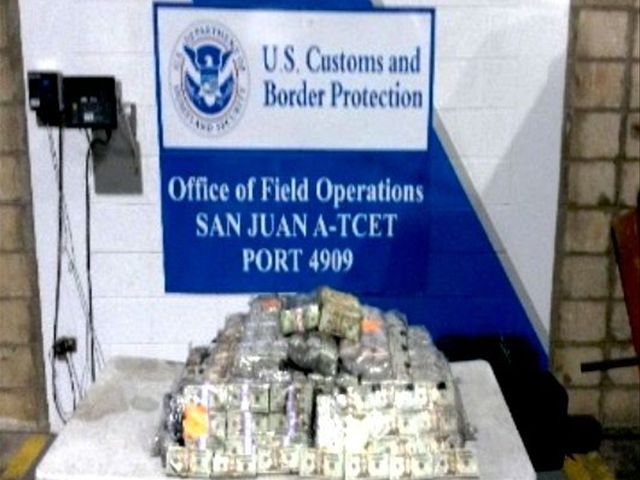 SAN JUAN, Puerto Rico – U.S. Customs and Border Protection (CBP) officers conducting ferry outbound operations at the San Juan Seaport seized more than $2,000,000.00 Monday evening. The money was found in hidden compartments inside a truck that was leaving Puerto Rico en route to the Dominican Republic onboard M/V Caribbean Fantasy ferry.
20140929_211306CBP personnel selected a truck with Puerto Rico license plates for an intensive examination after a preliminary non-intrusive inspection revealed certain anomalies. Subsequently a physical inspection revealed twenty-two (22) bundles of hidden US Currency for an amount of $2,044,375.00 dollars.
CBP officers seized the currency and took custody of the driver. He was arrested by U.S. Immigration and Customs Enforcement HSI special agents in connection with the failed smuggling attempt and the US Attorney's Office accepted the case for federal prosecution.
"CBP Officers conduct outbound examinations of passengers and cargo leaving the country in an effort to stop guns, ammunition and unreported currency from being smuggled out of the country. Their diligence paid off in this enforcement action," said Juan Hurtado, San Juan Area Port Director. "The unreported cash that we seize has an impact on the criminal organizations by making it more difficult for them to further their illicit activities."
Individuals are permitted to carry any amount of currency or monetary instruments into or out of the U.S. However, if the quantity is $10,000 or higher, they must formally report the currency to CBP. Failure to report may result in seizure of the currency and/or arrest. While anti-terrorism is the primary mission of U.S. Customs and Border Protection, the inspection process at the ports of entry associated with this mission results in impressive numbers of enforcement actions in all categories.
U.S. officers find 2.5 pounds of heroin in vehicle from Dominican Republic on ferry
In a related development, U.S. Customs and Border Protection (CBP) officers discovered 1.15 kilograms (2.5 pounds) of heroin concealed within a vehicle arriving from the Dominican Republic on the ferry on Friday.
While performing inbound inspections of passenger vehicles that arrived from Dominican Republic onboard the M/V Caribbean Fantasy, CBP officers performed a thorough inspection of one of the vehicles and discovered, hidden within it, an object which subsequently field tested positive for the properties of heroin. The heroin weighed approximately 2.5 pounds, with an estimated value of $75,000.
Customs and Border Protection officers arrested the driver of the vehicle, a United States citizen and resident of Puerto Rico.
ICE Homeland Security Investigations (HSI) is leading an investigation and presented charges against the subject for consideration by the U.S. Attorney's Office for the District of Puerto Rico, which accepted prosecution.
CBP uses sophisticated methods to identify and target potentially high-risk passengers and cargo, including advanced electronic information about every passenger and cargo shipment entering into the U.S. before their arrival. "CBP officers remain vigilant in the protection of our borders and will continue to use their training and expertise to detect those that intend to introduce contraband through our borders", stated San Juan Area Port Director Juan Hurtado.
CBP's dual mission is to facilitate travel in the United States while we secure our borders, our people and our visitors from those that would do us harm like terrorists and terrorist weapons, criminals, and contraband. CBP officers are charged with enforcing not only immigration and customs laws, but they enforce over 400 laws for 40 other agencies and have stopped thousands of violators of U.S. law.