Players get ready for Punta Cana-Bavaro's Nigh Golf Experience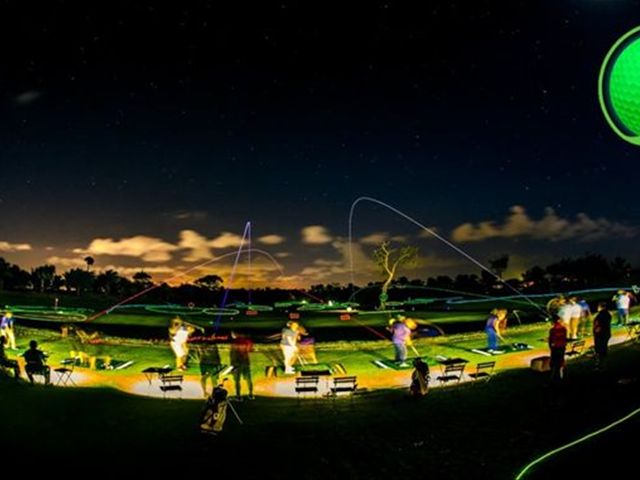 Punta Cana, Dominican Republic.- Golfers now have more time to enjoy their favorite sport with the opening of the Golf Experience in the resort region of Punta Cana and Bavaro, where the Nigh Golf Corporation provides everything needed to lower even a beginner's handicap.
Once guests arrive at the Golf Club, they will be accompanied to a private illuminated area on the range driving. A set of golf clubs, table, chairs, soft lighting and background music will be available at each driving area for guests to enjoy.
A complementary welcome beverage, souvenir LED golf ball and a bucket of LED driving range golf balls will be provided to each guest.
The driving range area will be plashed with glowing, multicolor targets that simulate greens, water hazards and sand bunkers.
Special targets will make a loud sound and light up when impacted by the LED golf ball, providing instant feedback on whether the target has been hit. Players will also be able to win free beverages when their golf ball strikes a moving target. Each target is assigned points which make it a fun and competitive experience.
At the end of the Night-Range game, guests can purchase additional buckets and continue play. Each participant will get a free stroke on a separately lit golf hole with a variety of prizes for winners, including a one week all-Inclusive stay for two at Iberostar Resort. Transportation back to the hotel will be provided at the guest's request.
Key Night Golf features
– Fun and unique excursion that doesn't take away from beach/pool time
– No exposure to sunlight or heat
– Even people who've never played golf cab try it in a fun and relaxed ambiance
– Great activity for the entire family
– LED golf balls in flight at night can be seen much clearer than regular golf balls during the day
– Available only in Punta Cana
Includes:
Transportation, 1 Bucket of LED Golf Balls, 1 Welcome Drink, 1 Souvenir LED Golf Ball, 1 Set of Rental Golf Clubs, 1 Contest Stroke with Prizes. (Top Prize 1 week all-inclusive for 2 @ Iberostar Resort).