Dominicans to be charged for attempting to smuggle migrants into Puerto Rico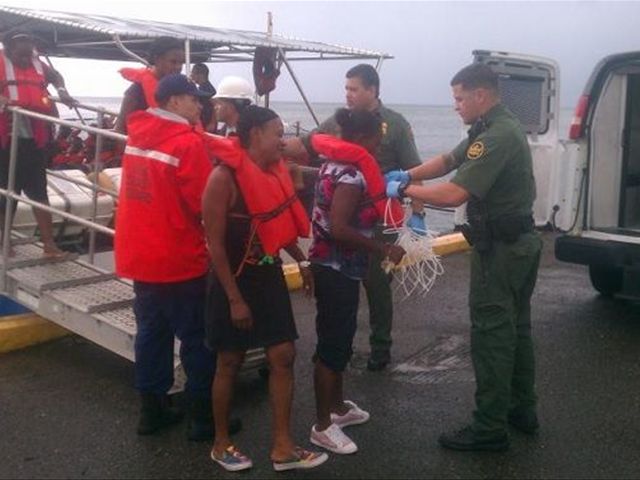 Santo Domingo.– Four citizens of the Dominican Republic will be prosecuted under US immigration law, after Customs and Border Protection (CBP), Puerto Rico Police Joint Forces for Rapid Action (FURA) and the Coast Guard intervened and apprehended 13 undocumented Dominican Republic immigrants on Monday.
Border Patrol Agents assume custody of migrants transported by the Coast Guard. On Sunday May 10, a group of 15 Cuban undocumented migrants reached Mona Island and were processed in Aguadilla according to immigration statuses.
Alberto Coplin-Mercedes and Felix Manuel Guzman-Ramos, will appear today in US District Court on charges of attempting to bring into the island United States (not a huge deal, but technically that is the charge) undocumented aliens; and Marcos Rafael Contreras-Rosario and Frank Kelly Guerrero-Diaz, will appear on charges of attempting to re-enter the country after a previous removal. All defendants will appear today before US Magistrate Judge Marcos E. Lopez.
"Our collective resolve is to be able to arrest and prosecute migrant smugglers who have complete disregard for undocumented immigrants they transport," stated Ramiro Cerrillo, Chief Patrol Agent for the Ramey Border Patrol Sector.
On May 11, 2015 a CBP Border Patrol agent patrolling with a Puerto Rico Police Maritime Unit detected and intercepted a vessel 1 mile west of Rincon.
The makeshift wooden 23 foot vessel, white and blue in color, powered by a single 75 horsepower engine, had 13 undocumented migrants, all claiming to be citizens and nationals of the Dominican Republic and reported to be in good health.
The migrants were transferred to the US Coast Guard cutter Drummond for biometric processing.