Event showcases Miami-Dade, Dominican Republic trade, investment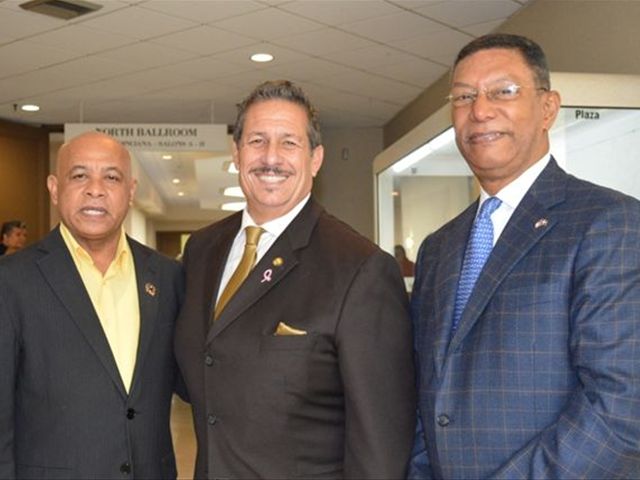 Miami,- Aspart of Hispanic Heritage Month, the Dominican International Business, Tourism& Development Federation, held successfully a business lunch andconference, having as Keynote Speaker Commissioner Jose "Pepe" Diaz,Miami-Dade County District 12, which covers cities of Doral, Hialeah, HialeahGardens, Sweetwater, Virginia Gardens and Medley, all these cities having large business ties with the Dominican Republic, as well as concentration of Dominicanresidents and owners at residential and commercial areas.
"I'mhere today to support you and your organization, who plays an important role inpromoting trade, tourism and business between MIAMI-DADE and THE DOMINICANREPUBLIC" stated Commissioner Diaz.
5th LARGESTTRADE PARTNER:
TheCommissioner of Miami-Dade, Jose "Pepe" Diaz, informed that the totalinternational trade Customs District Miami in 2014 amounted to US $ 116billion, with the Dominican Republic's being the 5th largest trading partner,in a global scale, focusing that Miami-Dade is the main port of entry for goodsentering the United States from the Dominican Republic, stating that "wewant to keep that position".
Emile DeBoyrie Troncoso, vice president of the federation, and who led the ceremony,stressed that Commissioner Diaz, in addition to those major cities under hisadministration, is also the Chairman of the County Committee on InternationalTrade and Tourism, and, at the same time is the Chairman of the InternationalTrade Consortium Board, known as ITC, an organization that recently approved,thanks to the efforts of Diaz Ballester and the Federation, an important trademission to the Dominican Republic, next year.
INVITESFEDERATION MISSION TO MIAMI-DADE:
CommissionerDiaz said that international trade generate business opportunities for both,pointing out "and this why I invite your organization to consider bringinga trade mission from the Dominican Republic to Miami-Dade County. The Office ofEconomic Development and International Trade (EDIT), is willing to supportyou".
DIAZBALLESTER FOCUS TOURISM BENEFITS:
ThePresident and Founder of the Dominican International Federation, Pedro DiazBallester, pointed out the targets and conveniences of the work thisorganization develops. Led by Dominican and Dominican-American, but whosemembership includes Americans, Hispanics and other nationalities, as well asthe most important areas of business, tourism and development, highlighting theadvantages offered by the Dominican Republic for business purposes, butespecially those who enjoy the atmosphere and attractions in the growing marketfor Congresses, Expos and Conventions, in Bavaro-Punta Cana, Santo Domingo,Puerto Plata, Santiago, Juan Dolio, Bayahibe, and other attractive areas of thecountry, with the advantages offered by its eight international airports, amongother factors.
CONSUL,MAYOR, PRESIDENT's CHAMBERS Attend:
Among theparticipants, who expressed their satisfaction with the quality of the event,also learned about the favorable situation of the current trade, business andtourism opportunities between South Florida, Miami-Dade, and the DominicanRepublic, the event was attended by theDominican Consul, Miguel Angel Rodriguez, Mayor of Medley, Roberto Martell,Thomas Abreu, Honorary Consul of the Principality of Monaco, Pete Cabrera,Councilman of the City of Doral, Michael DiPietro, former Councilman of Doral,Mark Trowbridge, President of the Coral Gables Chamber of Commerce, MandyLlanes, Chairman, Hialeah Chamber of Commerce & Industries, Juan Rubi, PastPresident, Medley Chamber of Commerce, and Vice President of Sweetwater Chamberof Commerce, among others.
BOARD MEMBERS Attending:
Besides thePresident, who is CEO of The Ballester Business Group and Multimedios EL MUNDODE LOS NEGOCIOS, and Vice President Emile De Boyrie Troncoso, InternationalAdvisor for INSIGHT SECURITIES, attending were Luis Delgado, President TVQUISQUEYA, Martin Medina-Gomez, General Manager CARIBTRANS, Manuel GarciaDenis, ACE FLORIDA REALTY, Dr.. Soraya Aguasvivas, ANYMOS FOUNDATION President,Enrique Sarubbi, Representative General Direction of Customs (DGA), Ana MariaSegura, President ALONSO SHIPPING CORP, Julio J. Burgos, CHA CHSP,International Advisory HOTELS & RESORTS, Efrain Sora, President SORA GLOBAL,Miguelina Garcia, General Manager QUISQUEYA TRAVEL, Andy De Jesus. BEST INTLREALTY president, Jose Manana, General Manager BENECORP INSURANCE, EmperorPerez y Perez, Professor of UNICARIBE, and Peter Landestoy of LandestoyENTERPRISES.
For moreinformation about business in Miami and the Dominican Republic, and otherevents sponsored by the Federation, or becoming a member of this dynamicorganization, please contact [email protected] roads, office(305) 901-6390, or www.dominicanintlbusinessfed.org