Dominican Republic priest challenges US envoy on 'intolerance'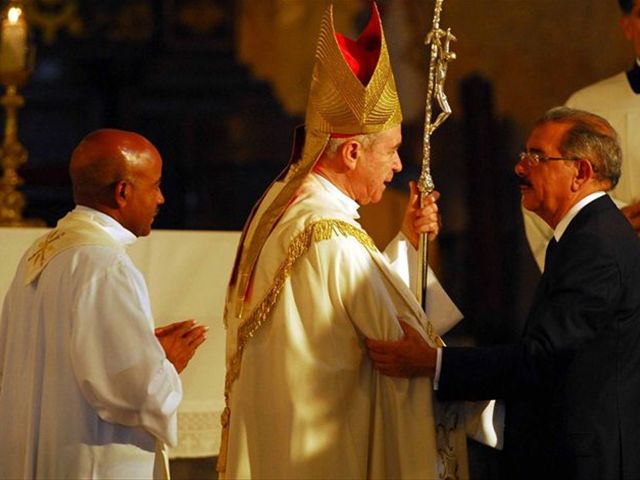 Santo Domingo.- Embattled priest Manuel Ruiz on Wednesday saidthe San Juan Bautista school board has the right to place the signs barring entry of US ambassador James 'Wally' Brewster,claiming the right of property.
"This is not a sign that has been placed in any embassy,??but on our property. Don't I have the right to place that? I believe yes,"the priest said by phone on the ZOL106.5 FM radio program.
Ruiz regrets that the sign has been "vandalized"under the cover of darkness. "Those who say we are intolerant come and putgraffiti on us, and have left our sign with many insults. Let the people judge who'sintolerant."
Ruiz said he doesn't oppose a person who has homosexualpreferences, and instead against the policy he calls meddling by the US envoy.
"It's activism by Mr. Brewster. He cannot invoke hispower threatening to repeal US visas from those who don't believe what hebelieves. Interference in a sovereign country isn't right. He doesn't manage personalthings like other ambassadors. His presence and of his partner in a school isn'tinnocent," the prelate said.
On Tuesday night the sign was scribbled with graffiti thatreads "F–k the intolerance!"
Pedophile bishop's case
Ruiz denied the Dominican Church's negligence in the caseof the late Vatican envoy Józef Wesolowski, who died awaiting trial for allegedpedophilia in the Dominican Republic. "We would've been irresponsible ifwe had called the Pope to ask him to leave that as is, or to transferWesolowski."
Ruiz denied allegations that the late bishop was secretly whiskedout of the country. "He wasn't let out; He was summoned to Rome because wedidn't have the authority for sanctions. They did what had to be done by thecorresponding channels; Canonic Law which governs us."
"If anyone feels that it is true, that I'm anaccomplice of the former envoy; that I'm an advocate of pedophiles, they shouldcharge me."