Dominican Republic leader's security unleash slugfest on reporters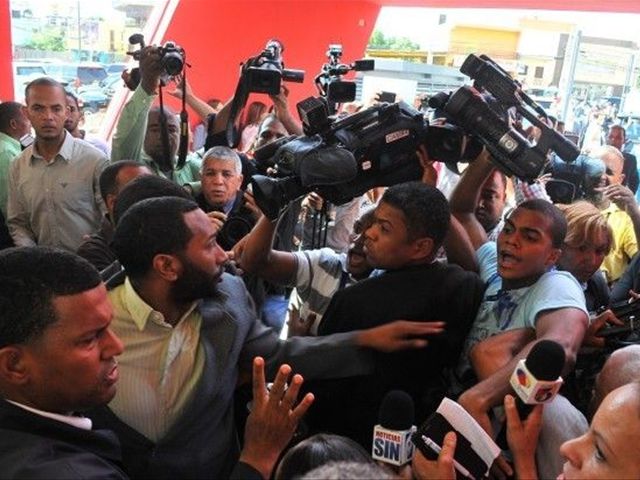 Santo Domingo.- President Danilo Medina's inaugural ride ofthe 2nd Metro Line on Thursday ended when his bodyguards pushed,punched and roughed up several reporters covering what was supposed to be a happyevent.
It's the latest in a series of violent actions by Medina'ssecurity against journalists, who are often penned like animals and forciblykept from moving about the site of public activities.
The melee started when the Presidency's protocol toldjournalists to wait in the sun for the train with Medina aboard outside thestation in Santo Domingo Este.
The members of the press complained to no avail.
When Medina arrived at 10:08 am together with otherofficials he told the journalists the train ride was "excellent, safe andreliable."
But the bodyguards again tried to block the reporters fromasking more questions, as one of the agents held the journalist Diana Rodriguezand violently pressed his fists to her stomach while purporting to help her by preventingher from falling to the floor. "Miss, careful you might fall," hesaid while strongly pressing against stomach.
"It was at that moment that she shouted: let me go!
Abuse continues
When Medina was about to leave the station, NCDN Channel 37photojournalist Candido Mendez was elbowed in the eye while trying to takepictures of the event. His camera also was damaged.
One of the bodyguards also punched El Caribe photographerPeter Bazil several times.