Solid organic growth and Navitaire acquisition support strong first half results for Amadeus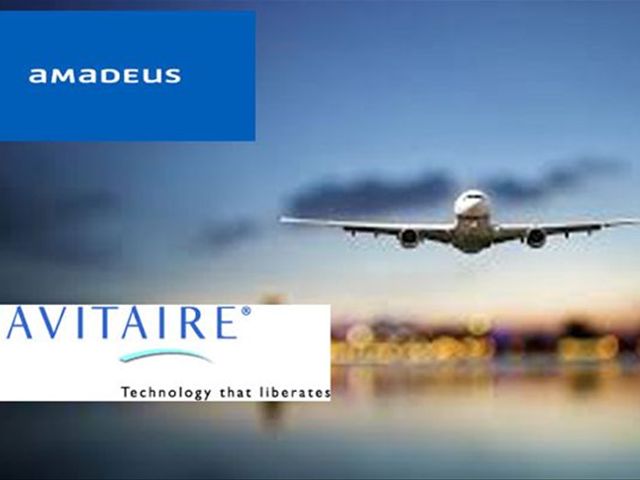 July, 29: Amadeus IT Holding, S.A., a leading technologypartner for the global travel industry, reported an adjusted profit of €494.5million for the first half of 2016. That meant a growth of 17.9% compared tothe same period of 2015. This was supported by a revenue increase of 15.1%, to€2,275.5 million, and EBITDA growth of 16.5%, to €907.1 million. Free cash-flowgeneration grew 23.2% in the first half, with the debt ratio at 1.31x EBITDA.
Luis Maroto, President & CEO of Amadeus, commented: "Thestrong first half of 2016 is the result of the continued, solid organic growthof our core businesses, and the positive contribution of our recentacquisitions.
"Our Distribution business continues to grow faster thanthe industry and its competitive position once again increased, to 43.2%. Ourgeographical diversification strategy continues to bear fruit and Asia & Pacificand North America are the fastest growing regions for Amadeus. We continue toinvest in making the GDS the most efficient system for the distribution oftravel products, as shown by the success of our merchandising solutions: 157airlines trust us for the distribution of their ancillaries through the directand indirect channels.
"The Airline IT business has also experienced strong growthin the first half of 2016. The number of passengers boarded using our Altéaplatform grew by 10.9% supported by the organic growth of our customer base andnew customer implementations. This strong performance was complemented by theacquisition of Navitaire from Accenture, finalised in January. Thanks to itscontribution, the total number of passengers boarded using Amadeus' PSS systemsincreased by 75.7%, to 622.4 million.
"At the same time, multiple global airlines continued tocontract our solutions. Malaysia Airlines chose Amadeus as the their new PSSprovider; Singapore Airlines contracted the full suite of Amadeus RevenueManagement solutions; Lufthansa Group contracted Amadeus Altéa DepartureControl Flight Management for all of its network airlines; and Avianca becamethe launch partner for Amadeus Anytime Merchandising.
"Our new businesses also showed progress, proved by newcontracts being signed with Quebec City's Jean Lesage International Airport andwith Copenhagen Airports; the new itinerary management mobile app launched forBoston Consulting Group employees worldwide; the two new Travel Intelligencesolutions, and the international distribution agreement reached with RENFE, theSpanish rail operator.
"We are confident that we can keep our strong track recordgoing into the future, and look forward to the rest of the year withconfidence."
Business highlights during the first half:
Distribution
Revenue increased 7.5%, to €1,520.5 million.
Air travel agency bookings rose 5.0%, to 279.3 million –outperforming GDS industry growth of 2.2%.
Air travel agency competitive position expanded by 1.0 percentagepoints, reaching 43.2%.
Around 75% of airline bookings made through the Amadeussystem worldwide are with airlines that have a content agreement with Amadeus.Since the beginning of the year, new contracts or renewals of existing contentagreements were signed with 21 carriers, including LATAM Airlines Group S.A.("LATAM"), Virgin Australia, Emirates, Air Cairo and Etihad Airways.
Growth also continued in the low-cost carrier segment.Chinese low cost carrier Spring Airlines made its content available through theAmadeus system. Also, travel agents using the Amadeus system can now bookRyanair's Business Plus Fare. Subscribers to the Amadeus system have access tothe inventory of more than 80 low cost and hybrid carriers from all over the world.Bookings of this segment grew by 17% in the first half of 2016, compared to2015.
Our customers also continued to contract our merchandisingsolutions, including LATAM, FlyBe and Ukraine International Airlines. As of theend of the first half, 63% of the global air bookings processed through theAmadeus system are eligible to carry an attached ancillary service. At the endof the first half, 110 airlines had signed up to Amadeus Airline AncillaryServices for the indirect channel, with 86 of them already implemented.Including customers that have contracted this solution for either theirindirect channel or direct channel, the number of contracted airlines is 157,121 of which have already been implemented.
Amadeus Fare Families Solution, which allows airlines todistribute branded fares, had 39 contracts in place, including the newly signedScandinavian Airlines, Iberia and Ural Airlines. 30 customers have nowimplemented the Fare Families solution, including Canada's WestJet.
Merchandising sales through the Amadeus indirectdistribution channel had a record first half of the year, with an 80% increasein airline ancillary services sold through the Amadeus system, primarilythrough the more than 30 global online travel agencies (OTAs) that are integratingAmadeus merchandising solutions.
Airline IT
Navitaire consolidation significantly contributed to strongIT Solutions performance.
Revenue grew 34.4%, reaching €754.9 million.
Passengers Boarded rose by 75.7% to total 622.4 million,with 229.5 million from Navitaire.
Altéa Passengers Boarded grew 10.9%, 4.1% of which camefrom the organic growth of existing Altéa carriers and the rest coming from thefull year impact of migrations during 2015 and more recent additions such asSwiss International Air Lines, Brussels Airlines and China Airlines.
In January Amadeus announced that, following regulatoryapproval, it had closed the deal to acquire Navitaire, a provider of technologyand business solutions to the airline industry, from Accenture for €766.5million. The addition of Navitaire's portfolio of products and solutions forthe low-cost and hybrid segments complements Amadeus' Altéa Suite of offeringsfor its largely full-service carrier customer base, giving the company theability to serve a wider group of airlines. Amadeus will market and sell thetwo product portfolios separately and will continue to invest in bothplatforms, enhancing the services and functionality to all types of carriers.
Including Navitaire, and at the end of the first half, morethan 170 airlines were contracted for either of the Amadeus Passenger ServiceSystems (PSS) and more than 160 airlines had been implemented.
Malaysia Airlines announced that it had selected Amadeus asits new IT provider for its PSS. Migrations onto the Altéa platform continued,with Swiss International Air Lines and Brussels Airlines migrating to AltéaDeparture Control following their migration to Reservation and Inventoryearlier in the year. China Airlines, the largest airline and flag carrier ofthe Republic of China (Taiwan), along with its subsidiary, Mandarin Airlines,have now migrated to the Altéa Reservation and Inventory modules as part oftheir contract for the full Amadeus Altéa Suite – making Altéa available in theChinese language for the first time. Air Cairo also completed its migration toAltéa.
Viva Group was also successfully migrated to Navitaire NewSkies, which will allow VivaColombia and VivaAerobus to serve more customers,add additional destinations, and ultimately support sustained and profitablegrowth.
Existing Altéa customers continued to contract additionalsolutions from the airline IT portfolio. The Lufthansa Group, which was alreadyan Altéa Reservation, Inventory and Departure Control Customer Management user,contracted to complete the full Amadeus Altéa Suite across all its networkairlines through the addition of Amadeus Altéa Departure Control FlightManagement. Additionally, the relationship with Singapore Airlines was deepenedwhen the airline contracted the full suite of Amadeus Revenue Managementsolutions.
Swiss International Air Lines and Amadeus announced apartnership to develop Amadeus Passenger Recovery solution, to be integratedwith the Altéa Suite. Avianca renewed its commitment to Amadeus Altéa Suitelong term, and also became the launch customer for Amadeus AnytimeMerchandising. Avianca is also launching Amadeus Customer ExperienceManagement.
In June, Amadeus became one of the first industry playersto receive the highest level of NDC certification from IATA. Airlines usingAmadeus' new Altéa NDC solution developed earlier in 2016 will have the optionto distribute their prices and fares, including ancillary and fare familycontent, using NDC Offers & Orders. This was followed shortly after byNavitaire also receiving the highest level of NDC certification.
Rail
AccesRail, an IATA travel partner and content aggregatorspecialising in intermodal travel, extended its partnership with Amadeus. UsingAmadeus' Air-Rail Display, travel agents are now able to book 18 rail and busoperators across 26 countries on the same screen as air travel, includingDeutsche Bahn's stand-alone services in Germany and National Express bus routesin the UK.
Meanwhile RENFE, the Spanish rail operator that transporteda record 31 million passengers on its high speed trains in 2015, agreed todistribute its rail content to Amadeus subscribers globally. Search, booking,ticketing, payment and settlement flow for the travel agency are all handled byAmadeus.
Travel Intelligence
Two Travel Intelligence solutions were launched during thefirst half: Amadeus Performance Insight, a cloud-based open architecturesolution that allows airlines of all sizes to better understand theirperformance, using data to help them make better business decisions as aresult; and Amadeus Booking Analytics, which allows airlines to monitorbookings – per route, per airline, per booking class, per agency point of sale,among other criteria, and act upon them.
Mobile
Amadeus and The Boston Consulting Group (BCG) launched anew itinerary management app available to the consulting firm's entireworkforce worldwide. The MyBCGTrip app is based on the Amadeus Mobile Platformand personalised for the corporation's travel needs.
Payments
Amadeus partnered with two pioneers in Fintech innovationto enhance its recently announced B2B Wallet product. Amadeus is partneringwith MasterCard to offer travel agencies payment acceptance and security aroundthe globe, as well as better protection against supplier default when using B2BWallet. Amadeus' solution will build on MasterCard's vast global network toexpand virtual B2B payments in travel.
Amadeus is also partnering with Ixaris to drive efficientvirtual card management on B2B Wallet. With its innovative payments technology,Ixaris allows travel agents to easily create and add funds to their virtual paymentcards.
Airport IT
Quebec City's Jean Lesage International Airport willimplement the Amadeus Airport Common Use Service (ACUS) to provide a moreefficient passenger departure experience and create substantial cost and energysavings. Additionally CopenhagenAirports, the company that owns and operates the Copenhagen airports of Kastrupand Roskilde, has signed a ten-year IT partnership with Amadeus. Both airportswill remove their current Air Traffic System and replace them with nine Amadeussolutions to transform operations across a diverse range of areas, includingAirport Collaborative Decision Making Portal, Airport Operational Database andBaggage Reconciliation System.