Cut down trees, go to jail, says President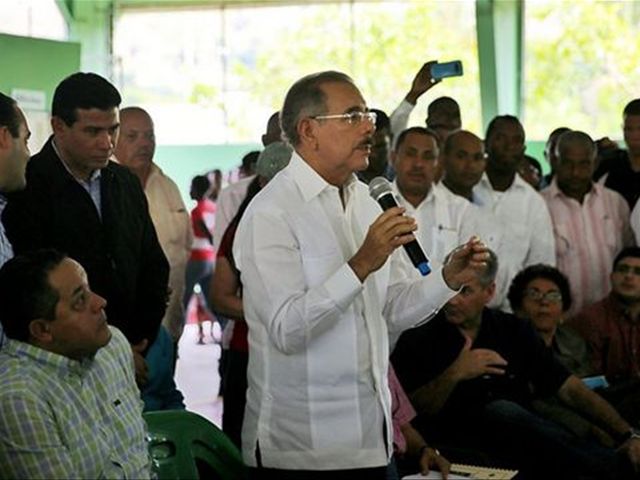 Hondo Valle.- President Danilo Medina visitedthe south-western province of Elías Piña over the weekend to launch a projectaimed at restoring the forests in the mountainous area.
The initiative will also create sources of income for localfamilies, while ensuring environmental sustainability.
During his conversations with local farmers, the presidentdeclared that "From now on, anyone who cuts down trees will be put in jail,"referring to the illegal deforestation that is ravaging the landscape in thelocal area.
The reforestation project in Hondo Valle is a commitment takenon by the State towards the local farmers during another of his so-calledsurprise visits on July 3rd, in which during a flight over the areahe was able to see the deforestation for himself.
Out of concern for the situation, Danilo Medina set up acommission made up of the Minister of Agriculture, Ángel Estévez; the director ofthe Dominican Agrarian Institute Emilio Toribio; the director of the BancoAgrícola, Carlos Segura Foster, Senator Adriano Sánchez Roa, theprovincial governor and a member of the Amor por la Vida Farmers'Cooperative and the Hondo Valle irrigation association, with the task ofdrawing up a reforestation plan within 30 days.
During this weekend's visit, Medina announced the immediate startof construction of greenhouses for cultivating saplings for replanting. Thiswill soon be followed by other components that will ensure the project'ssuccess and its acceptance by the community.
"If we don't stop this now, in five, six or ten years everyonewill have to leave. The destruction of these mountains is tragic, and has to bechanged. We will give it all the necessary support. There is aninter-institutional team. Today we will start to build the greenhouses, becausethis is starting immediately. I asked the equipment to be here today," said thepresident.
The reforestation program is one of the largest investments putinto effect as a result of the president's surprise visits.
More than 90,000 tareas will be planted with a range of trees,coffee and avocado, at a cost of more than RD$700 million.