Dominican Republic on the alert for Hurricane Matthew(Update)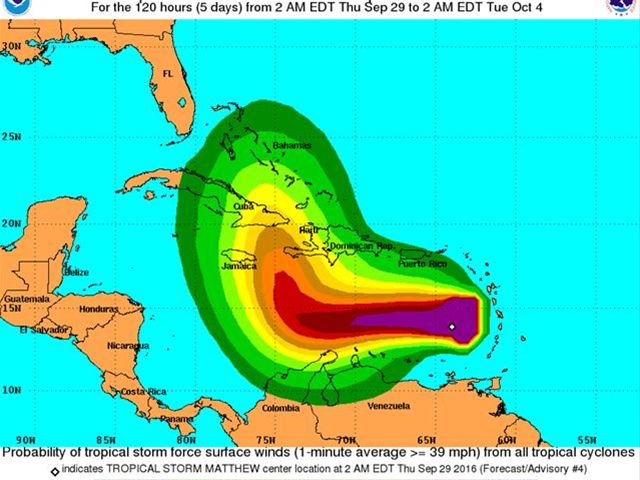 Santo Domingo.- The Ntional Hurricane Center upgraded Matthew to a hurricane around noon Thurs.
FILE. The Emergency Operations Center (COE) on Wednesday issued an alert for the south region for Hurricane Matthew, which is headed to the central Caribbean Sea and is expected startaffecting that area of the country tomorrow Friday.
the National Weather Office (Onamet) said the storm couldbecome a category 1 hurricane and could affect Azua, Peravia, San Cristobal,San José de Ocoa, Pedernales and Barahona.
Matthew", with sustained winds of 95 kph, is located around100 kilometers west of Saint Lucia and 835 kilometers southeast of Isla Saona, DominicanRepublic moving rapidly westward at around 30 kph.
Onamet said the accumulation of rains associated with thestorm could be as much as 150 millimeters.
The COE meanwhile also issued a maritime alert throughoutthe country's coasts, where boats should remain in port.
Plan
The COE said as part of its contingency plan all government agencies have been linked to acentral communication network