Dominican music scene draws major local, international talent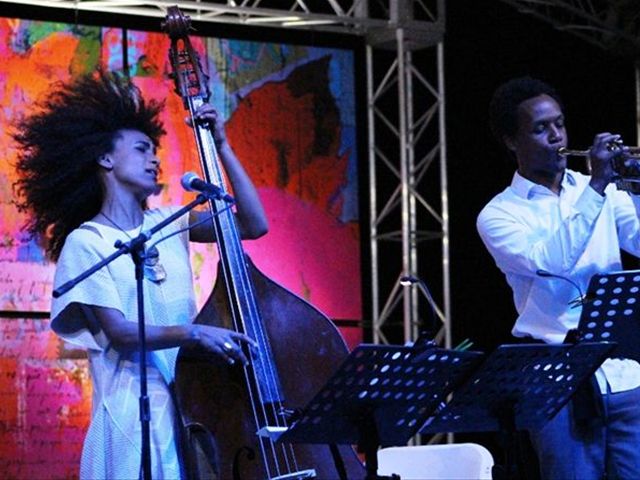 PRNewswire.- From the smooth sounds of jazzto the rolling rhythms of bachata and the pulse-pumping beat of the merengue,Dominican Republic's thriving music scene beckons to music enthusiasts of allgenres. Each year, the country plays host to numerous music festivals andconcerts, attracting the best in local, regional and international musicaltalent.
"Dominican Republic's diverse musicalculture is a great source of pride and we are eager for visitors to discoverour country's rich musical tradition," said Magaly Toribio, MarketingAdvisor for the Dominican Republic Ministry of Tourism. "From merengue andbachata to modern popular music, Dominican Republic is sure to hit the rightnote with music lovers of all types."
The2016 edition of the Dominican Republic Jazz Festival, held Nov. 8 through Nov.12, featured female jazz powerhouses including: Esperanza Spalding (pictured),Patricia Zarate, Enerolisa, Joanne Brackeen, Lihi Haruvi, Patricia Pereyra,Sabrina Estepan, Tia Fuller, Maridalia Hernandez and La India Canela.
The 2016 edition of the Dominican RepublicJazz Festival, held Nov. 8 through Nov. 12, featured female jazz powerhousesincluding: Esperanza Spalding (pictured), Patricia Zarate, Enerolisa, JoanneBrackeen, Lihi Haruvi, Patricia Pereyra, Sabrina Estepan, Tia Fuller, MaridaliaHernandez and La India Canela
Whether you're a festivalgoer seeking thenext great event or following your favorite artist to the island for aCaribbean getaway, Dominican Republic has it all. Learn more about festivalsand venues that bring the house down:
Festivals that rock across genres
Celebrating its 20th year, Dominican RepublicJazz Festival brings the best of the genre to Dominican Republic's northcoast—and, for the first time this November, included concerts in the capitalof Santo Domingo. The festival features five nights of free concerts every fallthat attract talent from around the Americas and the globe, such as 2016headliner and Grammy-award winner Esperanza Spalding.
For a true taste of local culture, let therhythm of Dominican Republic's national dance sweep you away at the Merengueand Caribbean Rhythms Festival. The event celebrates merengue and its diverseinfluences in Spanish, African and indigenous culture. The festival iscelebrated every year in the fall, bringing together the hottest merengue bandsin the region, along with artists performing bachata, salsa and urban music.
Today's chart-topping popular music finds itshome at the renowned Festival Presidente in Santo Domingo. The event, whichusually occurs every few years, showcases top Latin and U.S. artists for anepic three-day music fiesta. Ricky Martin, Bruno Mars, Marc Anthony, Calle 13and Daddy Yankee are just a few of the fan-favorites who have headlined inrecent years.
Santo Domingo is also home to a free outdoorconcert series every Sunday in the Colonial City when beloved band Grupo Bonyéperforms at the ruins of the San Francisco Monastery. The group performsclassic hits in merengue, son and bachata against the breathtaking backdrop ofthe historic ruins. The event attracts concertgoers of all ages, providing alaid-back scene for friends and families to mingle, dance and relax.
Dominican Republic's modern music scene isalso on the rise, with a growing number of DJs, hip hop artists, electro andhouse music acts performing at festivals, resorts and venues throughout thecountry. World-renowned artists including Steve Aoki, Rihanna, Diplo, Tiëstoand Major Lazer have already performed here, and Snoop Dogg, DJ Snake, TheChainsmokers and Armin Van Buren have shows scheduled this winter.
Venues for the masses
More global superstars are adding DominicanRepublic tour dates to their lineup to take advantage of the wide selection ofone-of-a-kind venues.
Located in the country's southeast corner,Altos de Chavón is a replica of a 16th-century Mediterranean village that wascreated as part of the Casa de Campo resort. The village opened in 1982 with amemorable Frank Sinatra concert at its 5,000-seat amphitheater. Worldperformers on tour continue to perform there, especially on long weekends inthe Dominican Republic. Sting, Elton John, Andrea Bocelli, Gloria Estefan,Michel Camilo, Juan Luis Guerra, Air Supply, Julio Iglesias and Plácido Domingoare just a few of the artists that have graced the stage of the iconicamphitheater.
New to the music scene is the Puerto PlataAmphitheater, which opened in summer of 2016. The spectacular venue (4,000cap.) provides a majestic view of the Atlantic Ocean is located adjacent to ahistoric colonial-era fort on the country's north coast.
Santo Domingo is home to a duo of destinationvenues: Estadio Olímpico (60,000 cap.) and Estadio Quisqueya (25,000 cap.).These music meccas have played host to a long list of international powerhousesincluding Maroon 5, The Killers, Enrique Iglesias and Aventura.
Ready to let the rhythm of local music washover you, or follow your favorite artist to the island for an unforgettableconcert experience? Find festival and venue dates, details and more atwww.GoDominicanRepublic.com.
About Dominican Republic
Surrounded by the Atlantic Ocean on the northand the Caribbean Sea on the south, our lush tropical and paradisiacal countryboasts nearly 1,000 miles (1,575 km) of coastline, 250 miles (402 km) of theworld's top beaches, magnificent resorts and hotels, and a variety of sports,recreation and entertainment options. Here you can dance to the pulse poundingthrill of the merengue, renew in our luxurious and diverse accommodations,explore ancient relics of centuries past, delight in delicious Dominicangastronomy or enjoy ecotourism adventures in our magnificent national parks,mountain ranges, rivers and beaches.
Known for our warm and hospitable people,Dominican Republic is a destination like no other, featuring astounding nature,intriguing history and rich cultural experiences like music, art and festivals,plus uniquely Dominican specialties such as cigars, rum, chocolate, coffee,merengue, amber and larimar.
Dominican Republic features the best beaches,fascinating history and culture, and is a chosen escape for celebrities,couples and families alike. VisitDominican Republic Ministry of Tourism's official website at: www.GoDominicanRepublic.com.