At least 40 hurt, 18 seriously in east region tourist bus crash (Update)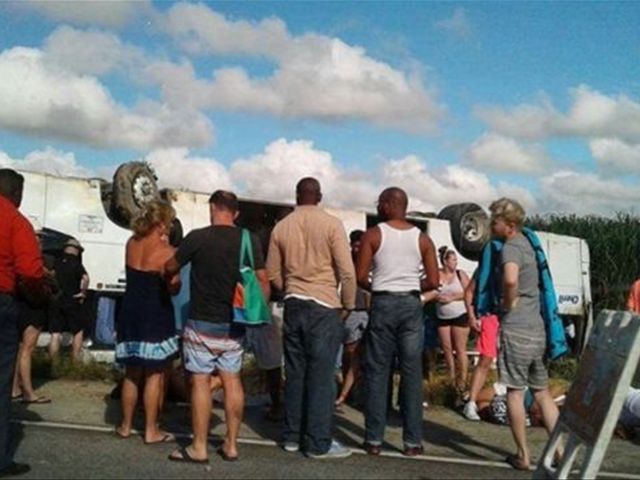 Santo Domingo.- At least 40 people injured, 18 of them seriously when a tourist bus flipped on the Coral highway between Higüey and Bayahíbe (east) Thursday morning.
The tourists injured were treated for trauma and lacerations at the clinic Cedano, after the driver of the bus of the Cheril company lost control when one of its tires burst.
Deputy Tourism minister Franklin Mairení Castillo said among the wounded figure Canadians, Poles, Brits and Spaniards nationals and a Dominican tour guide and the driver.
The tourists, who were on a dive excursion to Catalina Island when the bus crashed, were assisted by first responders from various agencies.
FILE. A bus full of touristscrashed Thursday morning on the Higüey-Bayahíbe highway (east), injuring atleast 10 people, none of them serious.
Public Works Military and Police Commission spokesmanJacobo Mateo Moquete said the accident occurred when one of the bus' front tiresburst.
The exact nature of the injuries to thetourists or the clinics where they're being attended have yet to be specified.