Thousands sign anti-corruption petition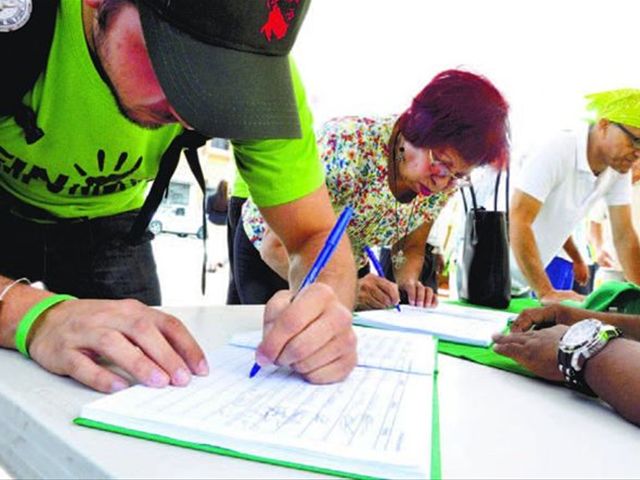 Santo Domingo.- In the hope of attracting the same high level of participation and enthusiasm as January 22nd's "Green March" against impunity, anti-corruption campaigners began collecting signatures Sunday to demand that the authorities create a commission of independent prosecutors to investigate the corruption and bribery case involving the Odebrecht construction company.
Starting at 10:00 a.m., hundreds of people started lining up on the Independencia Park esplanade to add their names, signatures and cédula (ID) numbers to the petition that will be taken to president Danilo Medina on February 22nd, scheduled for a second national day of action.
The campaigners are calling on president Danilo Medina to set up a commission of prosecutors supported by United Nations advisors by February 27th.
They recalled that the country is a signatory of the United Nations Convention against Corruption and that this therefore has constitutional validity.
They added that they would step up their process of citizen campaigning if president Medina does not announce the formation of a commission prosecutors during his February 27th accountablity speech.
They say that their appeal is based on a lack of confidence in the process being led by attorney general Jean Alain Rodríguez, who they accuse of acting as in the political interests of president Medina and the ruling PLD party.
One of the spokesmen for the protestors, Ico Abreu, stated that they were not satisfied with the agreement reached with Odebrecht for the payment of US$184 million, equivalent to double the sum the company admits to paying in bribes in return for being granted construction contracts, as the full details have not even been disclosed.
Abreu was not able to give an estimate of the number of signatures obtained but was confident it was massive.