La Hacienda Park: top ranked Dominican adventure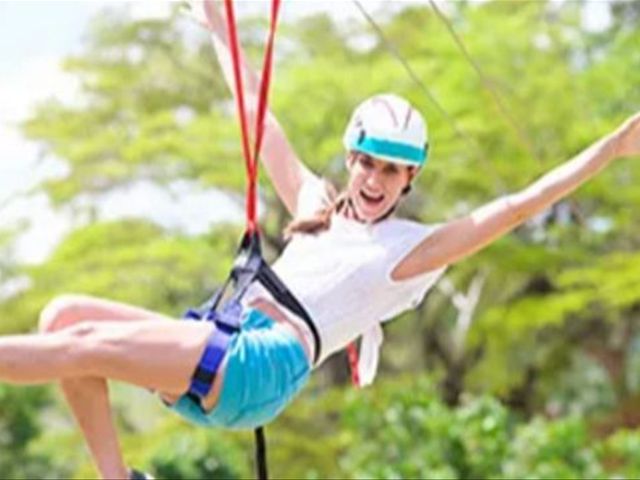 Punta Cana, Dominican Republic.- The topexcursion for Punta Cana visitors with the longest zip lines in the Caribbeanand the only chairlift in the Dominican Republic
After just one year of successful operation,the brand new La Hacienda Park is now TripAdvisor's top-ranked attraction inthe Bávaro-Punta Cana tourist area and the favourite excursion for travellers,based on glowing reports from tour operators in the Dominican Republic.
Located in the small mountain village ofAnamuya in the eastern Dominican Republic, La Hacienda is a private parkcovering an area of 2.5 million square meters, with activities ranging from ziplines with a chairlift to Polaris buggies, horse riding, Quick Jump and Safari.Top quality experiences are guaranteed in a safe environment where visitors canenjoy the natural beauty of the Caribbean to the very fullest.
La Hacienda Park is just a 40-minute drivefrom most of Punta Cana's all-inclusive resorts. Once you arrive you areoffered the chance to enjoy a range of adventurous experiences and discover theDominican Republic first-hand through a range of activities like the PolarisBuggies, a thrilling journey in these vehicles designed for the most extreme conditionsalong a route that ends with a refreshing dip in the crystal-clear waters ofthe Anamuya River.
Likewise, visitors can explore Anamuya'sunspoiled landscape on horseback, crossing several streams riding some the besthorses in the Dominican Republic (American Quarter, Appaloosa,etc.).
La Hacienda Park also gives you theopportunity to experience rural Dominican life on board a Safari, amilitary-style truck where you can enjoy the coffee trails and visits cacao andsugar cane plantations. You will also visit a Dominican village where you canlearn more about the lifestyle of the local inhabitants and enjoy theirtraditional products.
Another of the main attractions is theZipLine, the longest in the Caribbean. More than one kilometer long, it crossestwo mountains and descends through a spectacular valley. It is the highest ZipLine on the island with a 200-meter high ramp at its peak, as well as one ofthe fastest, with a maximum speed of more than 70 kilometers per hour. This iswhere the most intrepid visitors can opt for the challenge of making theQuickJump, a leap from a height of more than 20 meters.
LaHacienda also has the first and only chairlift in Dominican Republic, takingcustomers from the base to the top of the mountain where they can enjoyincredible views of the lush landscape of Anamuya, the city of Higuey and theCaribbean Sea.
Dominican lunch
Asgood hosts we also offer an exceptional buffet with a selection of the best oftraditional Dominican cuisine. Cream of pumpkin soup, the iconic Dominicansancocho meat stew, fish in coconut sauce and rice pudding are just some of theorganic, home-cooked local treats prepared to the highest standards and withlots of love. In their positive TripAdvisor reviews, most visitors highlightthe Dominican buffet in La Hacienda Park as particularly delicious.
Safety is key
It isimportant to highlight that our visitors' safety is a key priority in all theactivities in La Hacienda Park. All the park equipment is brand new, made withthe best materials and with guarantees of the highest safety standards. All thesafety-related parts and equipment are subject to regular inspections byqualified personnel and we always disinfect and clean the safety helmets.
An experienced team of professional mountainguides and adventure park trainers with specialised training will ensure yoursafety and provide the best possible supervision. After the obligatory briefingby the trainer you will be ready to take part any or all the activities, aslong as you're wearing the required equipment. In addition, La Hacienda Park'smedical center, which provides emergency aid services, is open on a permanentbasis.
Estee Pouleris, NYMetro Parents: "BuggyPolaris was my favorite activity of the day, but we also had great fun at theday's other activities, including a safari ride to a classic farm where we eachmilked a cow, horseback riding through the countryside, and a chairlift rideabove the trees. We also rode a zip line through the forest; it had fivelanding platforms, and at the final one we took a bungee down 20 feet to theground. Our daughter participated in everything and loved every minute of it.Due to her size, she was accompanied by an experienced staff member whilehorseback riding, on the chairlift, and for tandem zip lining. Included in thisexperience is a delicious buffet of authentic Dominican food that we enjoyed whilelistening to live music".
TripTemptationtravel blog: "During theadventures in La Hacienda Park, we were taken to the traditional junglevillage, where caring Dominican women offered us their local coffee and cocoa.And there we were sitting, holding a cup of local Dominican mamajuana drink inour trembling hands, gazing at the gorgeousness of green colors on the mountainslopes in the frame of thunderstorm clouds and feeling that we INDEED HAD LIVEDthe day in La Hacienda Park. Lived in a stream of happiness."
For more information about La Hacienda Park,interviews with the management of the property as well as accreditation inquiriesfor visiting the park in Punta Cana, please contact [email protected]