Senate chief takes a violent claque for questioning on Odebrecht scandal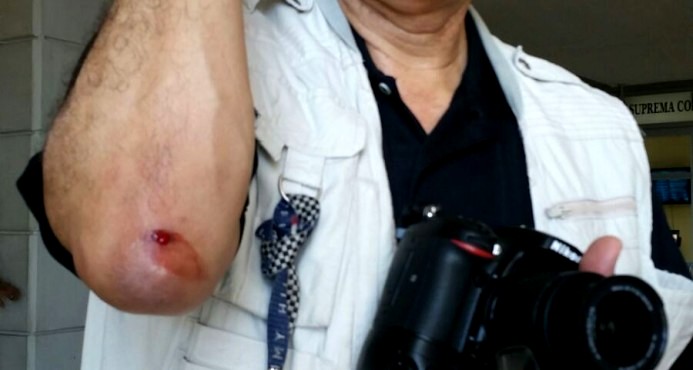 Reporter pushed to the ground. Photo courtesy of Diario Libre.
Santo Domingo.- Photojournalists covering Senate president Reinaldo Pared's visit to the Justice Ministry on Thursday were punched and pushed to the ground by lawmaker's bodyguards.
Diario Libre photojournalist Pedro Bazil said "I got elbowed at my stomach" when he was about to take photos. "When I came in through the Justice Ministry door, they elbowed me. Everyone who was stuck in that area was either beaten or shoved somehow."
Photographer Franklin Guerrero was also shoved to the ground. "Reinaldo came on foot from the Senate, he crossed the side street, and when I'm taking the photos, one of them pushed me and another grabbed me from behind. I fell to the ground, so as not hit the camera, I put up my elbows, I hit my right elbow."
Also assailed were photojournalists Ericka Santelises and Roberto Rosario, who were pushes when they tried to take images.
The journalists regret that it's the first time that a violent incident is caused by the officials and others subpoenaed for depositions by the Justice Ministry in connection with the Odebrecht scandal.