Accounts Chamber names 4,160 scofflaw government officials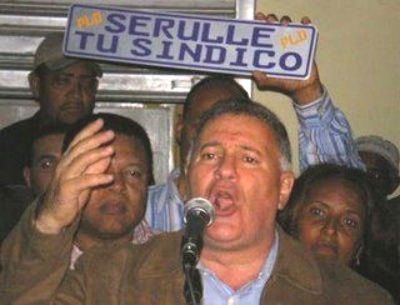 Juan Gilberto Serulle Ramia, former mayor of Santiago. File.
Santo Domingo.- For the second time since August 2016, the Accounts Chamber revealed the names of 4,160 government officials who haven't submitted their financial statement, which violates Law 311-14.
The Chamber's Inspection and Evaluation Office released the information Friday, which lists 106 deputies, 159 mayors, 244 deputy mayors, 1,589 council members, 320 municipal districts directors, 407 deputy directors and 1,229 municipal vocals.
On the list figure Máximo Lebrón, Juan José Morales Cisnero, Mayra Josefina Tavarez Aristy, Albert Elías Atallah Lajan, Víctor Manuel Mojica, Luis Romeo Jiménez, Esther Mirelys Minyety, Edme Elizabeth Ana Arnaud Bencosme, Henry Modesto Meran Gil, Miledys Suero Rodríguez de Durán, Milagros Quisqueya Díaz Gonzales, and Rafael Franklin de la Cruz Ramos.
Also listed are former and current mayors Francisco Antonio Peña Pérez, Francisco Alejandro Fernández, Juan Gilberto Serulle Ramia, Alexis Francisco Pérez López, Juan Antonio Adames Bautista, Octavio Valentín Fernández Tejada, Raúl Mondesí, Alberto Marte Almánzar, Juan Agustín Luna Lora, Luis Radhamés Minier Pérez, and Josefa Piedad Quezada Ramírez.
Moreover, Neris Alnurfo Figari Polanco, Ángel de Jesús López, Orlando Gómez Roman, José Miguel Méndez Restituyo, among others.
The Accounts Chamber said the complete list of officials who've yet to file their statement is on its website.
The Law
Law 311-14 stipulates that government officials are obliged to submit their financial statement within 30 days after assuming the post, and within 30 days after termination.