US agents halt 33 Dominican boatpeople near Puerto Rico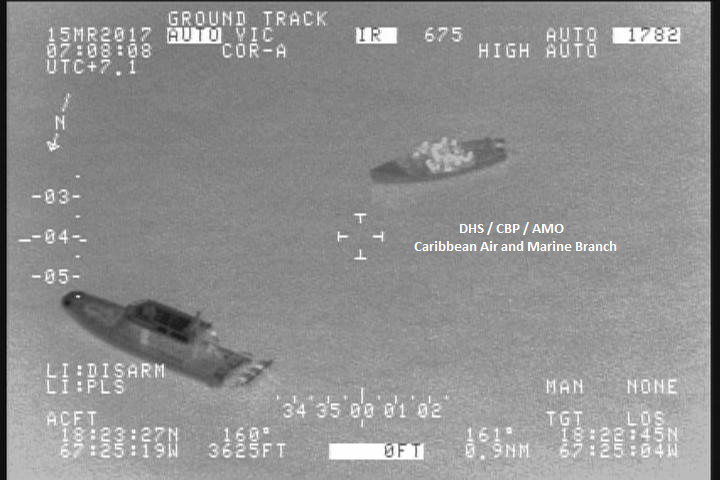 Interdiction. Photo US authorities.
Aguadilla, Puerto Rico – U.S. Customs and Border Protection (CBP) Air and Marine Operations (AMO<http://www.cbp.gov/border-security/air-sea/oam-operating-locations>) and the Puerto Rico Police Department intercepted a wooden "yola" type vessel Wednesday with 34 undocumented migrants, from Dominican Republic and Haiti, attempting to enter off the western coast of the island.  Four men were transported to the island facing criminal charges.
Melvin Almonte-Gutierrez, Alfonso Rodriguez, Nicolas Santos and Lucas De la Cruz-Alvarez, citizens of the Dominican Republic, appeared today before US Magistrate Judge Marcos Lopez facing charges for violation of Title 8 United States Code Section 1326 for attempting to reenter after a previous deportation.
Near 2:00 AM, a CBP DHC-8 Maritime Patrol Aircraft (MPA) crew detected a small 25-foot wooden "yola" vessel with one outboard engine, with more than 20 persons on board, heading eastbound towards Rincon, Puerto Rico.
"Air and Marine Agents are diligent to coordinate with partners any smuggling attempts through our coastal areas," stated Johnny Morales, Director of Air Operations at the CBP Caribbean Air and Marine Branch.
The CBP MPA maintained surveillance coordinating with a PPRD Joint Forces for Rapid Action (FURA<https://en.wikipedia.org/wiki/Puerto_Rico_Joint_Forces_of_Rapid_Action>, for its Spanish acronym) marine unit, intercepting the vessel 8 miles off the coast.  Thirty migrants, 31 men and 3 women (33 from Dominican Republic and 1 Haitian), were transferred on board of the US Coast Guard cutter Vigilant for initial processing.
Following the Caribbean Border Interagency Group (CBIG) guidelines, all migrants were processed using biometric technology to determine prior immigration encounters or criminal records.
The four defendants were transported to the Mayaguez port where Border Patrol agents will assume custody for prosecution.  US Coast Guard repatriated the remaining migrants.
"We will apply consequence in such cases when a migrant attempts to reenter illegally after a prior deportation," stated Ramiro Cerrillo, Chief Patrol Agent at the Ramey Border Patrol Sector<https://www.cbp.gov/border-security/along-us-borders/border-patrol-sectors/ramey-sector-aguadilla-puerto-rico>. "Nonetheless, it is our duty to reiterate our cautionary message to all migrants who attempt to make such a dangerous voyage."
Assistant US Attorney Nicolas Smith leads the prosecution
If convicted, the defendants face a fine or between 10 to 20 years of incarceration, or both.
All defendants are presumed innocent until found guilty by a court of law.