Gunmen shoot at deputy in conflict over state-owned lands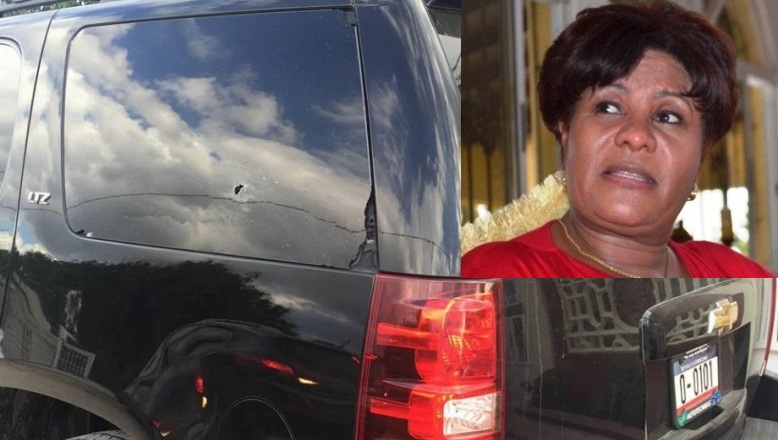 J. Castillo, SUV with bullet holes. Photo elnuevodiario.com.do
Santo Domingo.- Deputy Josefa Castillo of the main opposition party (PRM) was shot at together with relatives when arriving at her house the night of this Saturday,.
The lawmaker said at 11pm Saturday close to her residence in Boca Chica unidentified gunmen shot at her vehicle several times, punctured the windows of her SUV, but no one was hurt.
"Coincidently amid the campaign of discredit, slander and threats against me, at 11pm last night, my vehicle was attacked, firing several bullets that damaged the rear window on the driver's side. This happened on La Caoba street, near my house," said Castillo, who's been in Congress three consecutive terms.
She said the attack stems from her firm defense of the state-owned lands occupied by the sugar mill at Boca Chica, "which have been distributed unjustifiably by several administrations of the State Sugar Council (CEA) widely questioned at this time."
Hundreds of people, supporters and neighbors of the deputy, went to her home in solidarity.
"Watch out town of Boca Chica, keep an eye on Mr. Eladio Martinez. Control your employees, whatever happens to the Deputy would be very obvious," said some of Castillo's supporters in reference to Martinez, official of the Boca Chica mill.
Just this week in the Z101FM morning radio program, Martinez voiced threats against the lawmaker and her relatives.
He denied however any participation in the aggression, according to hoy.com.do.