Biggest dam drained as downpours again punish the North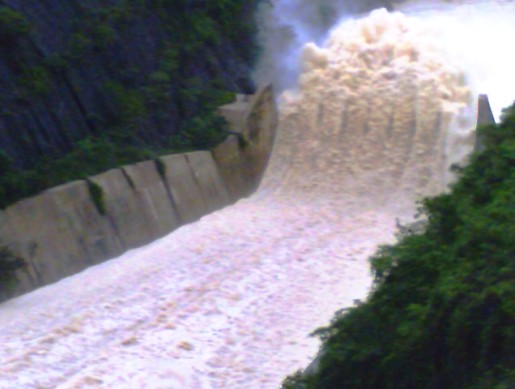 Tavera
Santo Domingo.- The Dams and Reservoirs Committee (COPRE) on Friday authorized the increased drainage of the country's biggest dam, after the downpours over the Central mountains made it rise to 326 meters above sea level, the canals and dams agency (INDRHI) tweeted today.
Tavera-Bao is also receiving135 cubic meters per second of water for which the agency said the safety measure was taken as the rain is forecast to continue in the next few hours.
The agency said the Tavera-Bao reservoir floodgates were opened to release 50 cubic meters per second and 100 per turbine. Tavera's maximum is 327 meters above sea level.
The National Weather Office (ONAMET) meanwhile issued flash flood warnings on swollen rivers, and streams and landslides  Puerto Plata, Valverde and Espaillat, Santiago, La Vega, Dajabón , Montecristi, Mirabal, Maria Trinidad Sánchez, Duarte, Hato Mayor and El Seibo provinces.