Outspoken bishop says fight against impunity isn't lost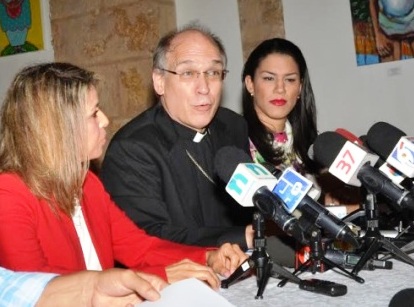 V. Masalles. File.
Santo Domingo.- Baní diocese Bishop Victor Masalles on Sunday launched a survey which asks "Do you agree with Monsignor Victor Masalles that the fight against impunity is lost in the country, ?" in a new evangel style which creates citizen awareness among the faithful as part of his pastoral work in the Dominican Republic.
The prelate himself was the first to vote in the survey.
He said the fight against impunity isn't lost. "That's my answer: NO." The poll is being done on his Twitter account: @VictorMasalles.
Masalles, who asks parishioners to vote "Yes" or "No" in the survey posted on his website on March 21, also slams  the opposition PRM party by tweeting: "The PRM is a real political embarrassment, because it dictates polity and prevents its Senators from having criteria regarding abortion. "Its criticism contains five figures that represent the Executive Branch by swallowing up the powers of the Legislative State, the Judicial Power, and the "Moral and the "Electoral Power."
Masalles, an economist and philosopher, describes himself as "passionate in preaching the Word of God and celebrating the Eucharist."
He recently complained against the country's system which makes the President untouchable, by dominating the other branches of government.
He posted a part of an interview by national newspapers in which calls the assigned headline "defeatist," which he affirms doesn't reflect its content, and uploaded the link to the full interview.