'Air cocaine' mastermind reveals web of complicity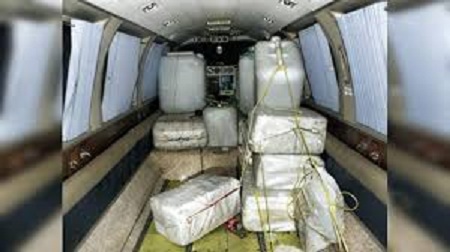 'Air Cocaine' bust
Santo Domingo, Dominican Republic's Justice Ministry based the plea bargaining agreement with French national Christophe Naudin on his interview with French radio RTL, where he details how he organized the escape of French pilots Pascal Fauret and Bruno Odos, convicted of trafficking and sentenced to 20 years in prison.
Naudin confirmed his key role in the escape, and emphasizes that he was contacted by the politician Aymeric Chauprade who left him in charge of a part of the plan. "Other people were in charge of the financial part, but I was in charge of the budget."
¨With the family's agreement on the escape plan, he (Chauprade) contacted me, and asked me what can we do and how to do it? To carry out the operation, a set a single condition: it should be with the agreement of both parties," Naudin said.
"After reaching the agreement, we had to find 100,000.00 euros and hire a team of 10 people to carry out the operation.
The indictment reveals the four scenarios that were considered, partly to cover their tracks, and in which they counted with military veterans. He said some were in charge of the helicopter flight, others for the jet skis and a speedboat.
"We had several options. At the last moment, I chose the least risky option, "said the criminology expert, who was waiting on the boat to pick up the pilots.
According to reports, Naudin had the support of a former flight attendant, according to a source close to the Defense Minister, and it was she who hired a captain to fly the plane in which the pilots were hustled out of the country.
He emphasized that for the flight back to the city, Naudin's team used tickets booked for the special staff with the complicity of a captain, who facilitated their boarding an Air Caraibe flight without a passport.
"There was no falsification of documents, and for that reason the Dominican authorities didn't suspect anything."