Top Dominican spook says nothing found on plan to destabilize Caracas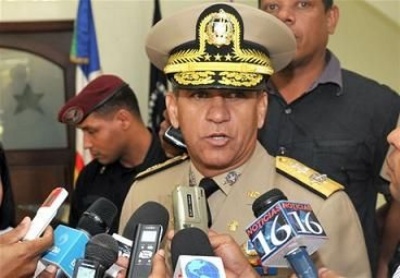 S. Pared. File.
Santo Domingo.- National Investigations Dept. (DNI) director Sigfrido Pared on Monday said he doesn't rule out that groups seek to destabilize president Nicolas Maduro's government, but neither confirmed that the Dominican Republic is being used for that effort.
"You know that the Dominican Republic is a country that has fast access to for Venezuelans who come to the country every day on different flights and as such, there might be some kind of group that is trying to destabilize the Venezuelan government, but I don't think they use the Dominican Republic for that, that's the idea we have," the official said at the National Palace.
Pared affirmed however that the intelligence agencies investigate any denunciation, as made by Venezuela former vice president José Vicente Rangel.
He noted a similar complaint six months ago by Venezuela official Hernandez Salas, but: "… we investigated and found nothing."
"It is not the first time that this type of denunciations has occurred and that Venezuelan authorities warn us that they are aware of this type of action in different parts of the country, we have investigated and so far there has been nothing of a political nature that could compromise us with that situation," Pared said.
Venezuelan media quoted Rangel as saying that in meetings held, "from the Marriott hotel, plans are being analyzed to stimulate the country's (Venezuela) destabilization. They mention a retired general who meets with CIA officials, a retired television personality, and several active officers."
He added that the DNI's investigative team works in coordination with Venezuelan intelligence to detect any type of situation that may occur from the Dominican Republic.