US fines Odebrecht US$2.6B as Dominican Rep. braces for shock wave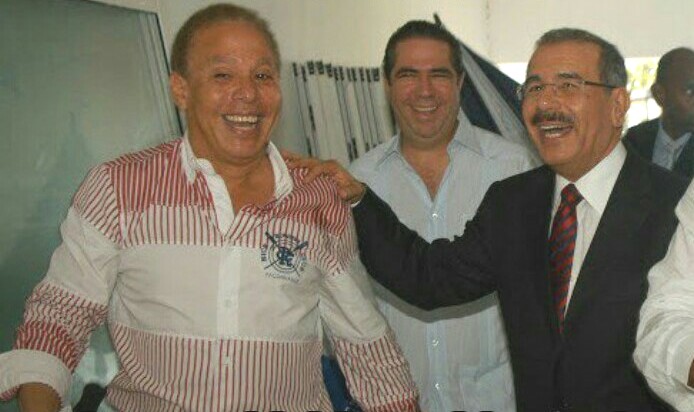 Angel Rondon, left, with president Danilo Medina, right
New York.- A federal judge in New York on Monday fined Brazilian construction company Odebrecht US$2.6 billion for bribing officials from 12 countries in Latin America and Africa.
The scandal is expected to explode at any moment In the Dominican Repbulic, where few names have been revealed, including that of the shadow figure of Angel Rondon, who admitted receiving "around US$92.0 million" as payment as the Brazilian company's "commercial liaison" in the country.
Odebrecht was ordered to pay US$2.39 billion to Brazil, US$116 million to Switzerland and US$93 million to the US on judge Raymond Dearie's ruling, said a spokesman for the Office of the Federal East District Attorney, quoted by Efe.
The multi-million dollar fine revealed in a Brooklyn, NY court is the result of a plea bargaining agreement between the Brazilian company with the Justice Dept. as well as with the Brazilian and Swiss authorities.
According to the Justice Dept., Odebrecht paid around US$788 million in bribes in 12 countries in Latin America and Africa, including Brazil, where it has been investigated for more than two years as part of funneling of funds from the State-owned oil conglomerate Petrobras, and part of the Lava Jato scandal.
Last December, a New York court sentenced Brazilian petrochemical company Braskem, controlled by the Odebrecht group, to pay a US$632.6 million fine, after pleading guilty to charges.
Payments were made in connection with "more than 100 projects in 12 countries, including Angola, Argentina, Brazil, Colombia, Dominican Republic, Ecuador, Guatemala, Mexico, Mozambique, Panama, Peru and Venezuela," say court documents.
Brazil's largest construction company agreed to collaborate with Brazilian Justice on December 1 which, in addition to admitting its guilt and paying a fine, includes depositions from 77 Odebrecht executives in exchange for reduced sentences in future convictions.
The depositions name around 200 politicians in the siphoning of Petrobras funds and in illegal financing of electoral campaigns, Brazil's current president Michel Temer among them, according to Brazilian media.