Greens balk at statements by wife of Medina campaign strategist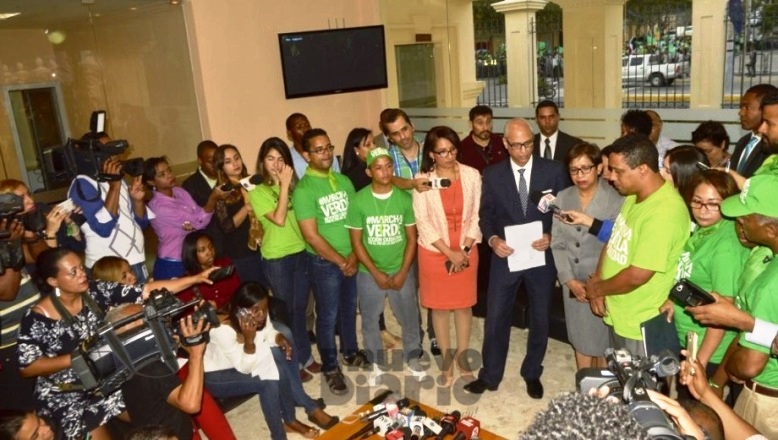 Green protest. File.
Santo Domingo.- The Green Movement on Wednesday balked at the credibility of statements by Mónica Moura, wife of president Danilo Medina's former campaign strategist, that Odebrecht didn't  provide funds for electoral campaigns in the Dominican Republic.
It said a statement denying campaign funding isn't enough when the ways in which Medina's reelection was financing haven't been transparent in the country, when the authorities were asked to disclose the documents and transactions with Santana.
"What I want to say is that we expect all the documents related to the commercial transactions between president Danilo Medina and Joao Santana to be published, made public. Until we have all the documents that support all these transactions; contracts, checks, transfers, we refuse to believe that there is no illegal and illegitimate financing of a major electoral campaign in the Dominican Republic," said Movement spokesman Carlos Pimentel.
"There's an added element to investigate, since statements obtained from Brazil aren't the only thing to work with. The authorities must reveal the three ways in which the company Odebrecht operated in all the countries of the region; bribes, ballooned costs and the financing of campaigns," Pimentel said during a protest in front of the Justice Ministry.
He said he expects National District judge, Danilo Quevedo to rule against the plea bargaining agreement with Odebrecht because doing so would violate the Code of Criminal Procedure. "We feel that if this agreement is ratified it would violate important provisions of the Code of Criminal Procedure and also halts a thorough investigation of the Odebrecht case in the Dominican Republic."
A 'disgrace'
In a related development, minority party Democratic Option president Minou Tavarez Mirabal on Wednesday called the government's push for a plea bargaining agreement with Odebrecht a "disgrace to the Dominican nation," which "guarantees impunity."