Top prosecutor has no pants; the Gov must 'produce a prisoner'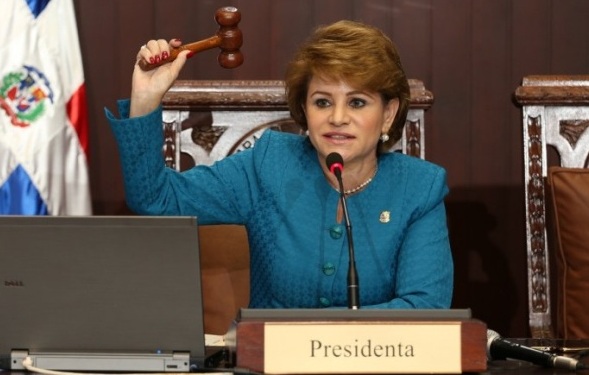 L. Medina today. Photo elnuevodiario.com.do
Santo Domingo.- The statements by Mónica Moura, wife of former president Medina campaign strategist, Joao Santana, on Wednesday unleashed a hornet's nest in the Chamber of Deputies, spurring one lawmaker to demand that the government "show us a prisoner" and insulting the Justice Minister, who "has no pants."
"There's a thirst for justice, we want a prisoner, the government has to show us a prisoner," PRSC deputy Pedro Botello insisted.
He urged his colleagues not to believe Moura's assertion that Odebrecht didn't fund campaigns in the country and asked lower Chamber president Lucia Medina to appoint a commission to determine the scope of the bribes.
"That a congressional committee which has the capacity to oversee, not the one that the President appointed, be designated to determine the extent of the bribes and Odebrecht's contributions to the President's campaign," Botello said.
But Lucia Medina sarcastically responded, "If you want we will pay the fare so that you can go to Brazil and bring her."
Botello also slammed Justice minister Jean Alain Rodríguez for allegedly resorting to delaying tactics." He's undecided, doesn't put his pants on to apprehend the corrupt who have subjected us to the deepest of social inequalities.
He said the government's delaying tactics must be stopped. "A people who pay their taxes don't deserve such disloyal justice."
Defends Medina
Ruling party (PLD) deputy Camacho defended Medina: "His behavior in his personal, private, political public life are two shields that make him deserving of high confidence." "Those who know Medina know of his high morals, social sensitivity."
Investigation
"I believe that for the country's health and legal image, we must resort to the institutional tools put in our hands to clarify the Odebrecht case for the sake of the country's politicians and its politics, the truth must be investigated to determine guilt or not for overvaluations or bribes," said Fausto Ruiz, PRM party deputy from La Vega.