Statement regarding NY State senator Marisol Alcántara event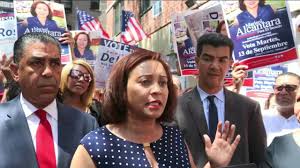 M. Alcantara. File.
New York.- Representatives from a coalition of grassroots organizations (Indivisible Harlem, Morningside Heights Resistance, NoIDCNY, True Blue NY, United Thru Action, WCLA-Choice Matters, Rise and Resist, Alliance for Quality Education, NY Indivisible, and Indivisible We Stand—UWS) will be meeting with State Senator Marisol Alcántara to question her membership in the Independent Democratic Conference (IDC) and to encourage her to join the Senate Democrats.
We applaud Alcántara's labor background and strong progressive bona fides, and we support and celebrate women of color as our legislators whenever we can.
However, we also know that individual IDC members' progressive positions do not matter, because the group by its very existence divided what would have been a Democratic majority in the New York State Senate and thereby empowered the Senate Republicans, who in turn have been able to prevent much-needed progressive reforms even from coming to a vote before the body.
These missed opportunities for crucial reforms include single-payer health care, electoral and voter registration reform, environmental protection, GENDA, reproductive rights, sanctuary state status, and full funding for New York state public schools.
In recent months, IDC members have met sustained and growing grassroots opposition to their collaboration with Republicans, which has proved so destructive in the era of Trump.
Senator Alcántara is uniquely positioned to begin to reverse the damage the group has wrought by denouncing its actions and returning to the mainline Senate Democratic caucus. We urge her to do so promptly and publicly, and to help ensure that New Yorkers get the progressive policies we want and deserve.