Questioned power plant commission faces Constitutional challenges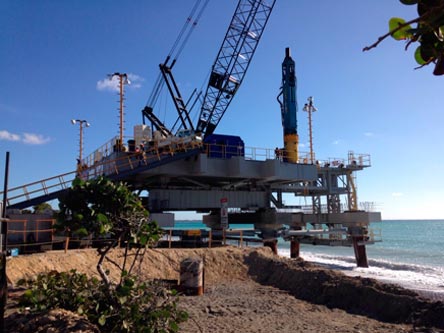 Punta Catalina pier
Santo Domingo.- The National Committee to Combat Climate Change (CNLCC) on Friday filed a challenge as unconstitutional, against president Danilo Medina Executive order issued January 10, which named a commission to investigate the tender and contract for the Punta Catalina power plant in Baní (south).
CNLCC members Rafael de León, Domingo Acevedo, Rafael David Montes de Oca, Demtetrio Turbí, Carlos Sánchez, Dolores Paulina , Juanita Herrera and José Olivo filed the challenge, the latest in a series of suits filed as the result of the questioned tenders for the facility, which according to the organization, its cost was ballooned by more than US$1.0 billion.
Another challenge on constitutional grounds was also filed against the Executive Branch by Eliseo Báez de los Santos.
The high Court will hear Both arguments during the public hearing scheduled for today.
Commission
Medina executive orde4r created the commission headed by Catholic bishop monsignor Agripino Núñez, Evangelist pastor Jorge Alberto Reynoso; National Business Council (Conep) president Pedro Brache, and mogul José Luis Corripio, among others.