Dominican Rep. Greens cast their wrath on 'pharaoh' ex-president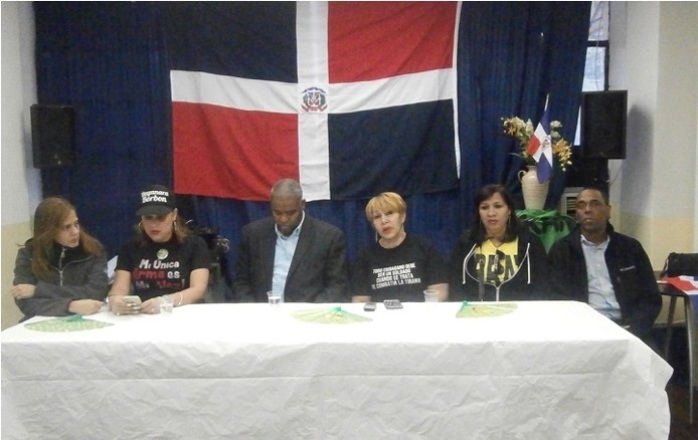 Green members in NYC. Photo elnuevodiario.com.do.
New York.- Dominican Republic's Green Movement, which organized pickets in New York and Miami against former president Leonel Fernandez last week, called the ruling party (PLD) leader a "pharaoh" and responded to his taunt "outside they are and outside they'll stay," voiced during the release of a compilation of his speeches.
"Leonel Fernandez tried to demean the vigorous protest made by dignified Dominicans on Friday, April 28, in New York, when he said 'outside they are and outside they'll stay'," the Green Movement said in a statement.
"With that poor conceptualization the former president responded to those who demand an end to impunity and corruption, and that political figures, like him, who are so committed to the framework of corruption created by the Dominican Liberation Party (PLD) Investigated for their links to ODEBRECHT executives who've admitted having bribed politicians, public officials and private business leaders in the Dominican Republic and other countries as well, for the concession of multiple construction works."
"Fernandez flees just like a devil's fear of the cross, when he has to explain the agreements under the table and unfavorable contracts he signed with the criminal company Odebrecht. Under his administrations; 9 of the 17 projects that the company has managed were built in our country since 2002," the grassroots movement said."
"It's not with gossip, Leonel Fernandez, that the reasonable doubts that weigh on you will disappear, but providing credible explanations that justify the high final cost, in comparison to the works' original budget. To name just two examples, Palomino hydroelectric dam, whose initial cost was (US)$225 million, ended at (US)$400 million, and Pinalito (dam) at (US)$130 million from an original budget of (US)$300 million, both built under his presidency," the organization said.
"Do not send your little faction in New York to provoke us, the debate isn't with its members either, but with you for having been the head of deeply corrupted and corrupting governments. We learned long ago to fight with the circus ringleader, not with his buffoons," added the statement signed by Mónica Zapata, Dayanara Borbón, Rosy García, Samuel Sánchez, Leonardo Placeres, José González and José Fernández.