Dominican Republic's east becomes international drug hub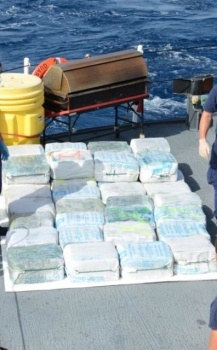 Santo Domingo.- Dominican Republic's east region has become a center to receive international drug shipments, mostly from South America, as evidenced by the antinarcotics agency's (DNCD) confiscation of large amounts of cocaine in recent months.
The most recent confiscation was 1,065 bricks of cocaine   , weighing 1,104 kilos during land operations in El Seibo province on Saturday, with the arrest of Venezuelan Julian Tamayo, the Colombian Jairo Barandica and Dominicans Marcial Reynoso Ciprián, Sergio Ramírez and Cristóbal Mota.
Other shipments
On January 2 the DNCD in coordination with the US Coast Guard confiscated 900 bricks of cocaine in the Caribbean near the coast of La Altagracia province, where it detained five Dominicans who were waiting for the cargo brought by foreigners on a speedboat.
Some 932 bricks of cocaine were seized on the coast of San Pedro de Macoris in late 2016, which were hidden in a boat from South America.
Risky position
National Investigations Dept. (DNI) director Sigfrido Pared said Dominican Republic's location at the very center of the Caribbean makes it Latin America's highest-risk country of being a bridge for international drug trafficking, and also having the most extensive communication infrastructure of all island-countries.