Top official, transport leaders mull sweeping legislation on sector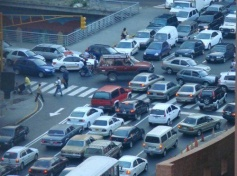 Santo Domingo.- As part of the activities leading to the enactment of the  Mobility, Transit, Transport and Safety Law 63-17, Presidency  chief of staff Gustavo Montalvo, met Thursday with transport sector leaders to discuss to their needs and doubts about the sweeping legislation.
The meeting is part of the dialogue called by the Government over the Master Mobility Plan, which began several months ago.
"With the formation of the National Traffic and Transport Institute (Intrant) and the implementation of the Mobility Plan, both operators and users will witness the great improvement on transport in the Dominican Republic," Montalvo said.
He said the Intrant, which will begin operations in June, will replace and absorb the functions of four other agencies, and the transport drivers Pension Fund as well.
"As in all initiatives of this administration, the dialogue and participation of the actors involved and society are fundamental to achieve results that benefit the entire citizenship," Montalvo said in the meeting attended by transport operators, headed by Antonio Marte.