Fired official with 'vast emporium' seeks spiritual help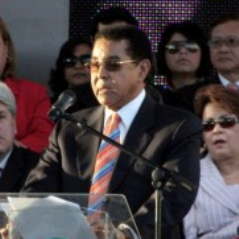 D. Pena. File.
Santo Domingo.- The former head of the agency (OPRET) which builds and manages Santo Domingo's subway lines on Wed. said he had to seek spiritual help and take refuge in the church with his family, after the devastating interview last Friday in which he couldn't explain his "vast emporium" allegedly built to dodge taxes.
Diandino Peña, speaking during his successor's inaugural as head of the Transport Reorganization Office (OPRET) said that president Danilo Medina is his friend who made the right decision in replacing him.
Medina fired Peña after journalist Alicia Ortega reported uncovering the former official's 29 companies, which weren't registered in his financial statement.
Peña swore that he didn't have any more than his RD$150,000 monthly salary as head of the OPRET.
In curt statements the former official said he's compiling documents, but didn't explain why.