Justice Ministry tightens noose on fired 'subway czar'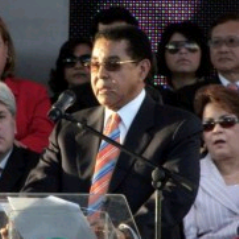 D. Peña. File
Santo Domingo.-  The Justice Ministry has asked the Accounts Chamber to verify the information provided by former Transport  Reorganization Office (OPRET) director Diandino Peña.
In a statement, Justice minister Jean Rodríguez quotes a letter of May 9, which asks president Chamber Hugo Álvarez to certify copies of Peña's financial statement, all the documents to base the information, and comparative analyzes as well.
President Danilo Medina fired Peña, known as the 'subway czar,' on May 12, after journalist Alicia Ortega revealed that the ex-official owns 29 companies, which he failed to list in his financial statement.
During an interview by Ortega, Peña swore that he didn't earn more than the RD$150,000 monthly wage as head of the OPRET, which manages constructions and operations of Santo Domingo's Metro.