Green March members denounce assaults at rally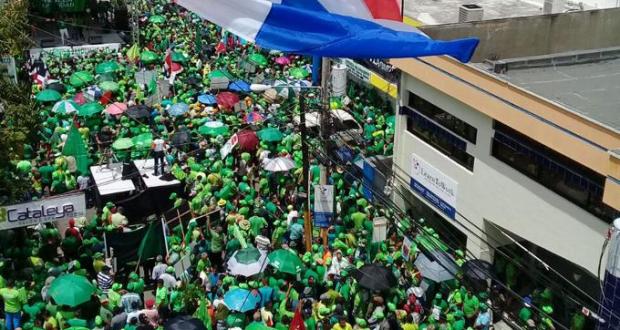 Green March Azua
Santo Domingo.- Green March members Benjamin Batista of Barahona and Rafael Calderón of Azua revealed Wed. that they were assaulted and robbed during Sunday's rally in Azua, where two men and a woman surrounded Bastista to strip him of the 60,000 pesos with which to pay for the bus for Barahona's delegation and managed to snatch his cell phone from him, the same as Calderón.
Another victim during the protest in Azua was union leader Victor de Leon, whose cell phone was taken. "It was presumably not a normal robbery, but a planned action."
The complaints come in the wake of questions on an incident denounced by Green March activist Ero Perez, whose vehicle was rammed from behind and ran him off the Bani-Santo Domingo highway Monday dawn.
Batista a farmer and Calderón, a schoolteacher leader, told Hoy.com.do that a group of infiltrators who sought to sabotage the regional Green March sparked the incidents.
Batista said as the march in Azua started, two men and a women surrounded him, assaulted him amid the crowd, a predicament which didn't even give time to call for help.
"A woman came up to me and the men took the money from my pocket," he said, but managed to grab the one who had his money and took it back.
"That was a plan designed to create difficulty and that is confirmed by what happened to Ero. They were specialized people," Batista said, adding that he didn't recover his cell phone. "I will continue the fight against corruption and impunity with the determination."