'Mother of all gridlocks' brings Dominican capital to a halt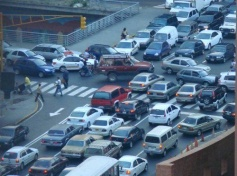 Motorists, ¨lawless goats¨ are mostly to blame for the traffic jams. File
Santo Domingo.- Most of Dominican Republic's capital on Friday came to a screeching halt as traffic police (AMET) scrambled to unravel the chaos in many intersections as motorists had to wait as long as one hour to advance just a few blocks.
A motorist who didn't want his nave revealed called the traffic jam the "mother of all gridlocks" as police officers scurrying on motorcycles tried to impose order along several of the major thoroughfares.
The chaos comes amid expectation of improved traffic in the city, once the recently passed law that creates the Transit and Transport Institute (Intrant) takes effect.