Top US official to visit Haiti, 'encourage cooperation' with Dominican Republic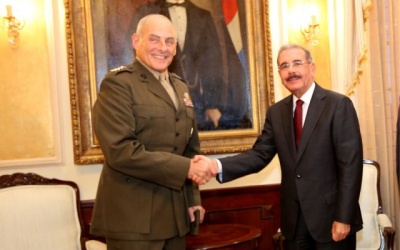 John Kelly in a visit to president Danilo Medina
Washington.- US National Security secretary John Kelly will travel to Haiti to meet with president Jovenel Moïse on Wednesday and "encourage cooperation" with the Dominican Republic, the US government said, quoted by EFE.
The visit aims to discuss "international cooperation and issues related to the repatriation" of Haitian immigrants, the Homeland Security Dept. said in a statement.
The visit will also seek to "foster cooperation between the Dominican Republic and Haiti's nascent border security unit," the statement said.
Kelly's visit comes after the Dominican Republic surmounted the crisis with Haiti in the aftermath of the Dominican Constitutional Court's controversial ruling handed down in 2013, which set the parameters for undocumented immigrants to obtain residency and which affected, Above all, the offspring of undocumented Haitians.