Odebrecht bagman's money trail widens as corporate web thickens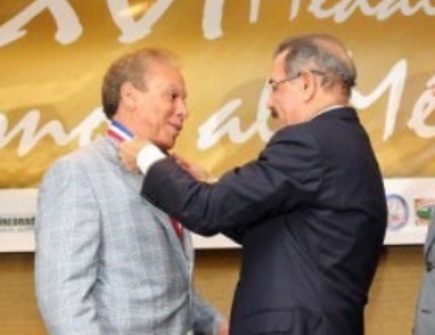 Wicked web: Angel Rondon, president Danilo Medina.
Santo Domingo.- The company AAA Dominicana, a government contractor, is one of 40 companies formed by lobbyist Ángel Rondón Rijo to hide part of the funds he received for his work as a bribe from Odebrecht, according to the Justice Ministry file to base the request of pretrial detention for him and 13 codefendants.
The file indicates that the company was a contractor of Santo Domingo's Water Utility (CAASD), whose legal department was coordinated until January 2017 by Kelly Marius Rondón, a cousin of the accused, known as the "Bagman."
The Justice Ministry says Kelly Rondon was used by the lobbyist to place RD$50.9 million in his accounts from 2007 to 2017.
Kelly Rondon's salary in the CAASD was RD$40,000 and when he heft, was replaced in the post by his associate, Rosa Maria Rijo de Marius, according to the indictment.
The defendant's daughter, Angelina Rondón Marte, 37, and his sons Angel Rafael and Angel Daniel Rondón Marte, also held accounts in local banks, according to court papers.
Rondón's cousin was part of the group of relatives who help the accused place millions of pesos in local banks.
In the name of the defendant's daughter, who figures as executive in several companies in the corporate web owned by Rondón Rijo, made bank deposits for RD$326.1 million and US$14.7 million   between 2007 and 2017, the Justice Ministry said.