Santiago Mayor named in US criminal investigations: ColorVision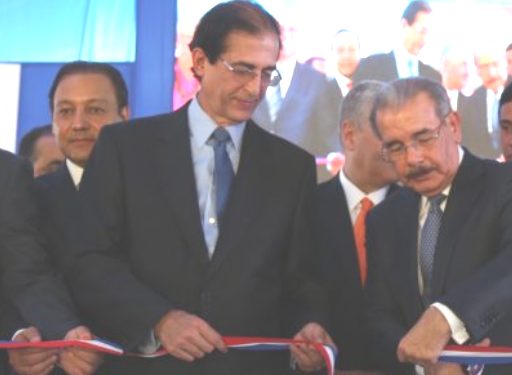 Abel Martinez, Presidency chief of staff Gustavo Montalvo and President Danilo Medina in Santiago Fri. night.
Santo Domingo.- Angel Martinez, detective and journalist based in Miami, affirmed Friday that the Mayor of the country's second biggest city is named in US investigations into drug trafficking and Odebrecht.
Speaking from Miami on ColorVision Channel 9, the detective said that Santiago mayor Abel Martinez also faces extradition as part of the case on which "there's an active investigation."
Angel Martinez published on the social networks that Abel Martinez's US visa was cancelled, as a result of the probe, although the Santiago Mayor released an image that puportedly shows that his US visa is still valid.
"The US is preparing a criminal complaint against Abel Martinez, this was told to me by the State Department, as a licensed detective and journalist," Angel Martinez said.
When ColorVision anchor Ivan Ruiz asks him if he harbors any ill feelings toward the Mayor, the detective said, "I don't even know him."
He said the US State Dept. sent a memo to Justice minister Jean Rodriguez, warning that he had until May 28 to proceed against Abel Martinez.
"If Dominican Republic doesn't cooperate, the State Department will initiate its own request for extradition. There are three witnesses protected by the US," Angel Martinez said, adding that the investigation began five years ago.
The allegation comes amid numerous reports that the US cancelled the visa of mayor Abel Martinez, who didn't immediately respond to Ruiz's request for comment.
Odebrecht
Angel Martinez said the agreement between Dominican and US officials on the Odebrecht case entails the arrests of 30 Dominicans. "The State Dept. called me to ask about his inquiry, Abel Martinez is number two on that list."
He added that he will be in the county in July and will speak about his allegations on ColorVision.