Greens picket Dominican consulate in NY over corruption back home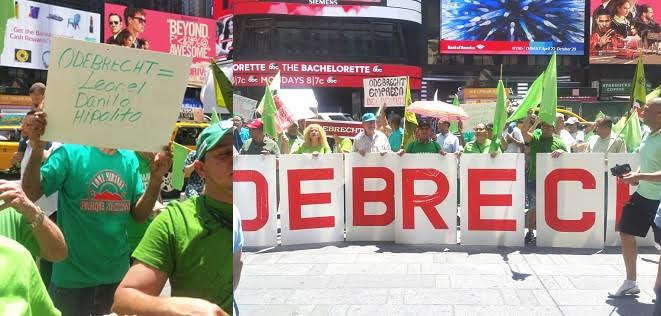 New York.- Dozens of Green March members on Saturday picketed the Dominican consulate in NYC over the cases of corruption and impunity occurring back home in the Dominican Republic.
The protesters demand the inclusion of all who figure on the list of those bribed by Odebrecht , because "they aren't all there, and those there aren't all there is."
The protesters gathered in front of the consulate on Broadway, in downtown Manhattan, voicing chants against president Danilo Medina, and against former presidents Leonel Fernández and Hipólito Mejía.
Consul Carlos Castillo met with a group that included William Guerrero, Rosy Garcia, Monica Zapata, Jairo Guerra among others, who handed him a document with their grievances.
Guerrero said the Greens demand the arrest of those who took bribes from Odebrecht and on the tender for the US$2.1 billion coal-fired power plant at Punta Catalina.
"We must leave room for justice to do its work, and as President Medina himself has said, there are no sacred cows in his administration," Castillo said.